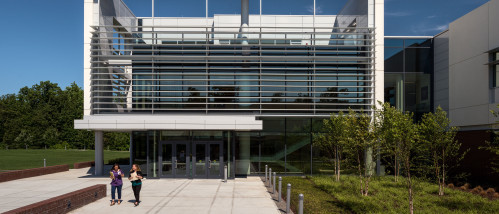 English as a Second Language (ESL)
Ready to learn English? Brightpoint's ESL classes prepare you for college-level English. Most of our ESL courses are limited to 15 students so you will have the opportunity to receive a lot of individual assistance from your instructor. Brightpoint offers a shorter, less intensive program that will get you on your way to a degree faster!
We believe that students working at the college level in their second or third language should be given every opportunity for success. Brightpoint understands the unique position of English Language Learners (ELLs) in classes across the disciplines. To that end we encourage use of aids like bilingual dictionaries and extended time on tests, as appropriate and with instructor approval, for the duration of your degree.
Getting Started at Brightpoint
Visit our Get Started page to see what steps to take to become a Brightpoint student.
For assistance, contact the Advising Center.
Frequently Asked Questions About ESL Classes
Where and when do classes meet?
ESL classes are offered in the fall and spring semester for 15 weeks and in the summer for 8 weeks. You can find out what courses are offered each semester using the class schedule. All classes are taught in the evenings from 6 p.m. – 8:50 p.m.
How do I know which courses should I take?
Schedule an appointment with the Advising Center. Make sure to let the Advisor know you are interested in ESL classes.
Brightpoint uses the Accuplacer placement test to help determine which class is the right fit for you. This test is free to you. It is best to discuss where and when to take the Accuplacer with an Advisor. Due to COVID-19 the Accuplacer will be administered through Zoom.
If you have already taken a placement test or ESL course at another college, we may be able to help you determine the correct class without taking the Accuplacer test.
How long will I take ESL classes?
This depends on your level of English when you enter the program and how many classes you take each semester. You can take both reading and writing, or just reading, or just writing.
How much do classes cost?
The cost of tuition can be found on Brightpoint's tuition and fees page. Book costs are not included in the tuition.
Can I get financial aid for ESL classes?
If you qualify for financial aid, you can use those funds to pay for college ESL classes. Some financial aid programs will pay the entire cost of tuition plus books. You can meet with a Financial Aid Counselor in-person or virtually by appointment.
What if I am on a student visa?
If you are here on an F-1 visa, you are considered to be an international student. Visit the International F-1 Student Visa page for more information.
Do I really need ESL classes?
Brightpoint's ESL program is designed for students who are already capable of speaking English. Most students have been living and working in an English-speaking community. Some even have college degrees in other languages. Brightpoint's ESL program is specifically designed to prepare you for college level reading and writing in English.
Can I also take classes that are not ESL, like math or science?
Yes. ESL students can take other classes while they are in Brightpoint's ESL courses. An advisor can help you choose the best courses to take.
The ESL Curriculum at Brightpoint
Level 1: High-beginner to low intermediate readers and writers will be placed in ESL 31 Composition I (6 credit hours) and ESL 32 Reading I (3 credit hours)
Level 2: Intermediate to high-intermediate readers and writers, along with those who have successfully completed ESL 31 and 32 will be placed in ESL 41 Composition II (6 credit hours) and ESL 42 Reading II (3 credit hours)
Level 3: Advanced readers and writers, along with those who have successfully completed ESL 41 and 42 with be placed in ESL 51 Composition III (3 credit hours) and ESL 52 Reading III (3 credit hours)
Oral Communication: This class is open to students of all levels and taught during the 8-week summer term.