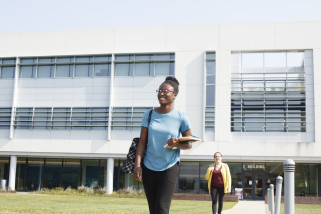 Registration Now Underway for Summer and Fall
The college's class schedules offer options for scheduling flexibility.
Whether you are a current student, are new to Tyler becoming Brightpoint, or are considering your college options, now is a great time to plan for what's next up in your life. Registration is underway for both the summer and fall semesters, and the earlier you register, the more likely you are to get the classes you need at the times or in the formats you want.
Both class schedules offer you options to help you make college work, including:
May Mini Session – Complete an online class in three weeks! (Note: May Mini Session classes may be found in the summer schedule.)
Summer Schedule – Get ahead, catch up, continue or start your education during the summer by taking a 5-week, 8-week or 10-week class. Class sessions start throughout the semester and include courses taught fully online, on-campus, over Zoom, or in hybrid formats (partially online and partially on campus or over Zoom).
Fall Schedule – The fall schedule is packed with classes covering a variety of subjects and taught in a variety of formats from on campus, Zoom and online to hybrid and bimodal (you get to decide throughout the semester whether you want to attend the class on campus or over Zoom). The schedule includes 15-week, 12-week, 8-week and 5-week class sessions.
Check out the May Mini Session, summer and fall class options at www.brightpoint.edu/schedule. You can search by semester, class session (class length), format, subject or day of the week.
Ready to sign up? Current students may log into myTyler and register through SIS. Those who are ready to apply to the college, can go to https://brightpoint.edu/admissions/get-started/ for guidance on how to get started.
For the 2020-21 academic year, the John Tyler Community College Foundation (JTCC Foundation) awarded scholarships to 177 students.
View all News
Brightpoint will be closed May 27 – 29, for the Memorial Day weekend.
While the college is closed, current students may continue registering for classes by logging into their myBrightpoint accounts and using Navigate or SIS. New students interested in attending Brightpoint may get started by completing their application for admission, which is available online.