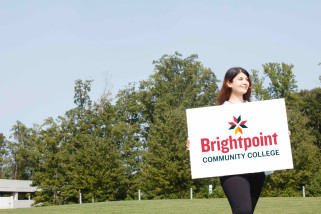 Tyler Becoming Brightpoint Community College
The college's name officially became Brightpoint Community College on July 1.
On July 1, 2022, Tyler officially became Brightpoint Community College! Our new name is as vibrant as the work we do; the people and communities we serve; and the employees who dedicate themselves to our students' success.
Over the next several weeks, our new and current Trailblazers will see and experience Brightpoint on our campuses and online. We appreciate your patience as not all changes can happen at once.
Check out our new logo, highlighted in a brief video on our YouTube channel.
On the website, some links may be temporarily broken. If you spot one of these after July 15, please email webmaster@brightpoint.edu. You may notice the search function is returning slightly lower results. It will take a few days for Google to recognize our site and for search to improve.
On campus, through August, you'll see new signage, banners, posters and decals going up.
Students will also see Brightpoint in the myBrightpoint (formerly myTyler) portal, as well as the many apps they use.
In addition, you will see three new building names:
Beacon Hall (formerly Bird Hall)
Discovery Hall (formerly Godwin Hall)
Trailblazer Hall (formerly T Building)
Some street names on campus will also be changing. Look for new street signs in August. If you want to learn more these changes, our Becoming Brightpoint web page provides more details.