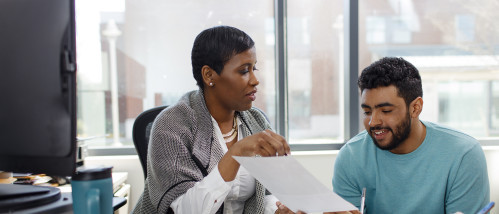 Brightpoint's professional and faculty advisors can assist you with educational, career and life planning.
Your advisor can help you:
Schedule the classes you need for your major.
Plan your next step – whether it's transferring or entering the workforce.
Map out a plan to graduation.
Explore your career options.
Discover additional resources and opportunities at Brightpoint and beyond.
New Students
Students who are new to Brightpoint will work with advisors in the Advising Center to select their courses for their first semester.
Advising Center staff provide:
Academic advising, primarily for first semester and undeclared students
Assistance with changing or declaring a major
Information on transferring
Class placement
Guidance on academic policies and procedures
Assignment of academic advisors
Current and Returning Students
­­­­­­­­­­­If you have not declared a major, staff in the Advising Center can help you select classes and create a schedule.
Once you have declared a major, you will be assigned a faculty advisor who has an interest and expertise in your program of study.
Contacting Your Advisor
If you haven't declared a major, contact the Advising Center.
If you have declared a major, you can find your advisor's name and contact information in myBrightpoint. Emails, phone calls, Navigate and office visits are all great ways to touch base with your advisor.
Please note that your faculty advisor's availability may change during the summer months based on their teaching schedule. If you need to reach an advisor during the summer months, contact the Advising Center for assistance.
When To See a Professional Advisor in the Advising Center
Before your first semester
Contact the Advising Center for assistance with selecting classes.

The semester you select a major
Touch base with your assigned academic advisor to get to know him or her and talk about your goals and plans.
When to See Your Faculty Advisor
Before you register each semester
Each semester before you register, meet with your faculty advisor to talk about course options. Advisors can help you determine what to take and when to take it, to save you time and money by avoiding taking unnecessary classes.

The semester you plan to graduate
See your faculty advisor early in the semester you plan to graduate. Your advisor will review your transcript and the courses you've taken to be sure you are on track.

Whenever you need help
Advisors are also great resources if you are having trouble or are unsure of next steps. Their role is to help you through the college experience.