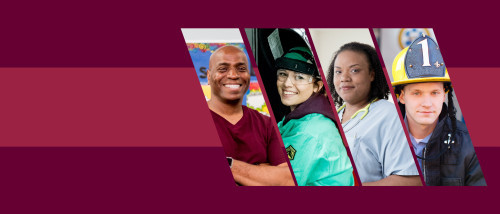 Begin Your Journey to an In-Demand Career
Brightpoint has launched the G3 tuition assistance program to help students pay for college while preparing them for good careers and open jobs in Virginia. G3 training options include early childhood education, healthcare, information technology, manufacturing, skilled trades and public safety and human services – all at little to no cost for eligible students.
Who is Eligible
G3 is available to any Virginia resident who:
Qualifies for in-state tuition
Has a total household income of less than or equal to 400% of the Federal Poverty Level (roughly an income of $100,000 for a family of four)
Is enrolled for a minimum of six credit hours at a Virginia community college
Is enrolled in a designated G3 program and
Has applied for federal and/or state financial aid programs
How The Scholarship Works
G3 funds make up the difference between what federal or state financial aid pays for and the cost of tuition, fees, and books for your chosen G3-eligible major. This means you must complete the Free Application for Federal Student Aid (FAFSA) to determine your eligibility for the program.
An individual enrolling in a designated short-term credential program must provide documentation of household income or eligibility for federal assistance programs.
G3 is available for full- and part-time students. Our programs are designed to fit around the busy schedules of working students, so you can continue to work while you complete your education.
G3 Career Programs
Below is a list of approved G3 programs through Brightpoint and our workforce division, the Community College Workforce Alliance (CCWA). Brightpoint offers certificates and career studies certificates that can generally be completed in a year or less, as well as associates degrees that can usually be completed in two years. Through the FastForward program, CCWA offers short-term training courses that can be completed in as little as six weeks.
Brightpoint Majors Available for G3
CCWA FastForward Programs
FastForward offers short-term job training programs online and in-person to help Virginians kick start their careers in the most in-demand jobs across the Commonwealth.
Learn about FastForward programs offered through CCWA.
Ready to Get Started?
Students interested in studying in a Brightpoint program should apply to the college. A new student navigator will be in touch to guide you through the application process. You can also contact the Help Hub for assistance.
Students interested in a short-term training program offered by CCWA should fill out their interest form or contact them at 804-523-2292.
---