Next Up: Police Sergeant
After studying criminal justice, James Redfearn is continuing his family's legacy of public service.
Criminal justice major James Redfearn launched his law enforcement career before he even graduated.
While at Tyler, now Brightpoint, he networked with local police departments, enlisted in the Virginia Army National Guard and positioned himself to carry on a family legacy devoted to public service.
See how he rolled up his sleeves with the best to get where he wanted to go:
Get veteran insight
Because his father and grandfather were both in the military, James wanted to dedicate his career to serving people.
"I grew up in a selfless service type of family, and service was something I really wanted to get into," James said. "I knew a criminal justice degree would be a good way to get into the field."
Through the college, he's met the region's top law enforcement officers, which include some of his own professors.
"Major Raymond Louth was my instructor for a police ethics class, and he'd come to class wearing his uniform when he was still active in Chesterfield Police Department," James said.
The people he met while at Tyler-from a Virginia State Police sergeant to Prince George County Police Department lieutenant-influenced his decision to join law enforcement while still in school.
"Having connections in different areas and jurisdictions of law enforcement helps you realize your long-term goal," James said. "Officers answer questions like: 'How does this work? What can I do in order to attain this?' And they'll give you an honest answer about how you can go about doing it. And the more people you meet, the more answers you get."
"Understanding certain aspects of a crime or laws gives me a platform to stand on. Tyler opened the door and gave me that knowledge."
James Redfearn
Police Sergeant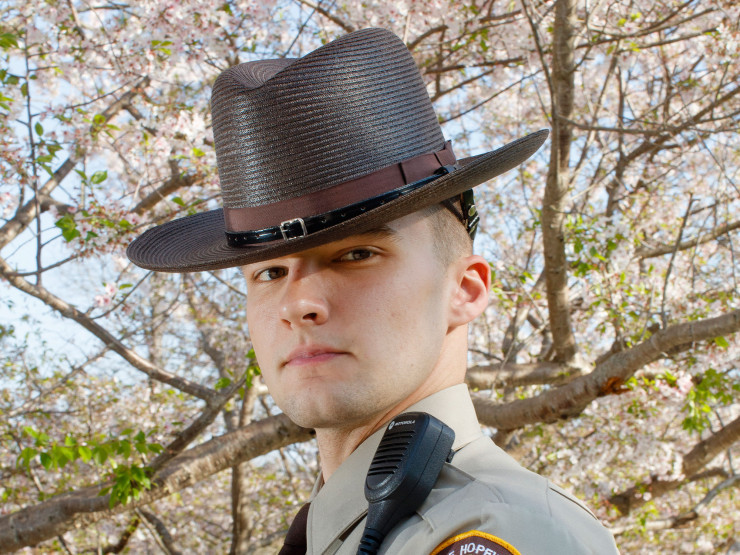 Just go for it
After taking a few classes in criminal justice, he took a semester off to enlist in the Virginia Army National Guard as a military police soldier.
"I thought joining the military would benefit me and my resume," James said. "It's also something that I've wanted to do as a lifetime goal."
And he was right. His newly acquired military expertise and pursuit of a criminal justice degree made him a shoo-in for deputy at Hopewell Sheriff's Office.
As a deputy, he handles security and prisoner transports at various courts, and he'll train at a police academy soon.
"It takes a certain person to be in the military or law enforcement," James said. "You need an attitude for selfless service, and that's really what I stress the most: you have to put others before you, especially in the military."
Make it meaningful
What does he enjoy most about being a deputy? Serving the community.
"When people call law enforcement, they're already in a pinch," James said. "If someone calls me, I will try my best to resolve their problems and make their life a little bit better. I may change that person's view of law enforcement-you can actually touch a person in a positive way."
Balancing school with his full-time job, James is taking online classes to finish his associate degree because he wants to accelerate his career.
"If you want advancement, to be promoted as sergeant, lieutenant, captain, you need that specialized training and a degree to advance through the chain of command," James said. "I want to continue in the criminal justice field, in local or state law enforcement. That's how I've been brought up. That's where my heart is."