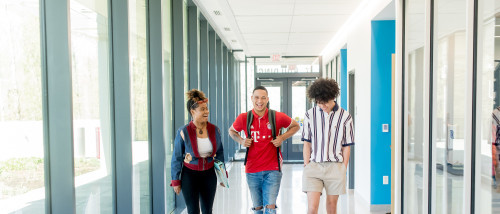 What's Next Up for You?
Whether you transfer to a four-year college or start your career after graduation, we want to help you achieve your goals. Brightpoint offers high-quality education with 75+ majors in a friendly, supportive environment.
Next Up: Transfer
With our guaranteed admissions agreements, you can build a foundation at Brightpoint to set you up for success at a four-year university.
After high school, Khiem Tran spent a gap year working and saving — to achieve his dream of earning a bachelor's degree. At Brightpoint, he discovered a lasting desire to give back and took advantage of the college's guaranteed transfer agreement with Virginia Commonwealth University.

When John Karlsen dual enrolled at Brightpoint as a high school senior, he wanted to explore different healthcare careers before deciding on his bachelor's degree major. His associate degree in health sciences and EMT certification at Brightpoint gave him patient-care experience and a pathway for his future.

To Brittany Woolridge, Great Expectations is not just the title of a novel by Charles Dickens. It's the name of a Brightpoint program that has supported her on the way to "where God placed me to be," she says. "Helping others, whether adults or kids, I feel like that's where I'm supposed to be."
Next Up: A Career You Love
At Brightpoint, you can get started on a new career in two years or less. We offer hands-on training that will give you the skills local employers want.
Although she had a bachelor's degree in hand, Clarissa Perry was unsure about her career path. A soul-searching six months of hiking the Appalachian Trail connected her with tradespeople who sparked her next move: learning how to weld.

At Brightpoint, Heilie Sheppard positioned herself for a job she loves in machining and career advancement in mechanical engineering.

When Billy Whorley interviewed at Church & Dwight and learned the company was willing to make an investment in his education, he was sold on the job. Soon after starting, Billy earned Lean Practitioner certification through Church & Dwight's partnership with the Community College Workforce Alliance (CCWA). A year later, he's earned two additional certifications and enrolled in Brightpoint's industrial electricity CSC to keep advancing his career.
Next Up: A New Career Path
You don't have to stay in a job that isn't working for you. At Brightpoint, a new career path isn't out of reach. Our flexible course options and academic support allow you to complete your degree while continuing to work.
A single dad of two girls, Kenneth Pritchett had accomplished a lot as a medical records technician for nearly 25 years and as a local school board member. But there was one thing he didn't have: a college degree. Brightpoint helped him change that.

During the pandemic, Chrishelle York enrolled at Brightpoint in search of a career change and more stability. She juggled coursework, homeschooling her daughter and managing her salon. Now, she's transferring to VCU in pursuit of a career in human resources.

At Brightpoint, Heilie Sheppard positioned herself for a job she loves in machining and career advancement in mechanical engineering.
Choose Brightpoint For:
Inside track to 35+ top colleges and universities
Brightpoint offers its graduates guaranteed admission to 35+ colleges and universities across Virginia and beyond, including VCU, ODU, Virginia Tech, VSU and UVA.
Marketable skills that employers value
Top companies like HCA Virginia and Altria invest in Brightpoint so that our graduates have cutting-edge expertise. Launch your career in two years or less with Brightpoint's professional certificates, individual courses and certifications.
Same four-year degree, less tuition
When Brightpoint graduates transfer to a four-year university, they earn the same degree but have more money in their pockets. Two years at Brightpoint and two years at a four-year university typically costs less than three years at a university.
Supportive environment
With an average class size of 15 students, Brightpoint offers personal attention, advising, tutoring and other support services to help you succeed.
Student life
Participate or take a leadership role in over 30 clubs and organizations, intramural sports and other activities on campus.