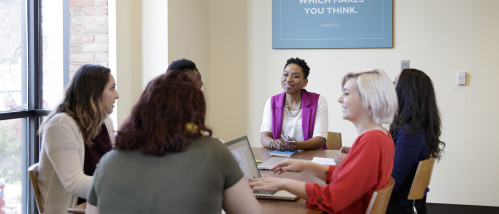 Library Instruction
The libraries teach students the information literacy competencies needed for success in academics. Information literacy instruction teaches students the research process, source evaluation, and proper use of information.
A typical session provides an overview of the library and introduces the online catalog of print books, e-books, articles, academic journals, streaming media, and film resources. Information literacy sessions also include active learning and student participation. Librarians are able to help create custom information literacy lessons.
Other topics include:
Web search evaluation
Identification of peer-reviewed materials
Citation and formatting for specific styles (APA, MLA, etc.)
Plagiarism
Both campus libraries have instructional spaces that can seat 30+ students with an instructor's station, projector, and computers.
Don't have time for a library visit? Library staff can come to you, both in-person and online. Use the form or button below to request library instruction for your courses!
Textbook Bank
Faculty can add books, DVDs, or articles to the libraries' textbook bank. These reserved titles are for student use either in the library or for brief checkout periods.
To add items to the textbook bank:
Fill out the Textbook Bank Form and bring materials to the library at least 24 hours prior to the first anticipated use.
Reserve the Libraries' Classrooms
Brightpoint faculty and staff are able to reserve the Libraries' computer labs to use during class time or for other activities and events hosted by Brightpoint staff. Please use this form to request a computer lab reservation.
Library Collections
Faculty and staff are welcome to submit suggestions and requests for library materials.
For a complete listing of the libraries' online and physical resources, please visit the A to Z list of Databases.