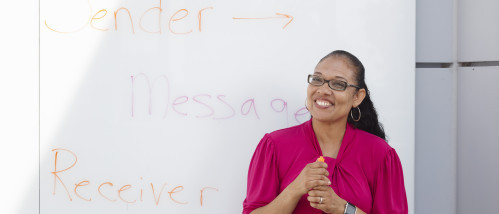 Transferring to a Four-Year College
Starting at Brightpoint helps you build a strong educational foundation for transferring to a four-year college or university, while also keeping more money in your pocket.
We make transferring easy with guaranteed admissions agreements, transfer grants and faculty advisors in your major who can help you choose the right Brightpoint courses to set you up for success.
Brightpoint is also a smart choice for students who want to take courses to transfer back to their home school. Before registering, make sure you have a Transient Form on file with Brightpoint's Admissions and Records Office.
Transfer Planning
Students who want to complete their freshman and sophomore years of college work at Brightpoint and then transfer to a four-year college or university typically pursue one of three types of degrees:
Associate of Arts (AA)
Associate of Fine Arts (AFA)
Associate of Science (AS)
Brightpoint's applied degrees – the Associate of Applied Arts (AAA) and the Associate of Applied Science (AAS) - are not designed to transfer; however, some applied programs do offer transfer opportunities. Use our major finder to explore your options and consult with a Navigator or Help Hub advisor to choose the right degree for you.
Once you are placed in a major, work with your faculty advisor to ensure you stay on track with your degree path. Use the VCCS transfer planning guide and resources available through Transfer Virginia in consultation with your faculty advisor to plan out your coursework and take the necessary steps for transfer.

▸
Transfer Virginia provides transparent, accessible, consistent, and current information to students. Search majors, find out where your intended major will transfer, where and how your courses will transfer, and determine how much it will cost. Resources are available to assist you with academic, enrollment, financial, and transfer planning. Research, plan, and organize your college and transfer journey with Transfer VA.
Brightpoint graduates are guaranteed admission to over 35 colleges and universities provided they meet course, GPA and other requirements.
Brightpoint graduates can receive up to $3,000 annually through the Virginia Two-Year College Transfer Grant.
Eligible students must have a 3.0 GPA, transfer to a participating four-year school, meet certain financial criteria and be enrolled as a full-time student.
Through a partnership with Reynolds and VCU and with support from the Mellon Foundation, the Mellon Pathways program offers resources and support to Brightpoint students who plan to transfer to VCU to complete their bachelor's degree in the arts or humanities.
Alumni Advice Series
Hear from Brightpoint alums who have gone on to success at four-year colleges about their experience transferring.
Longwood University, with Alicia Alvarez
James Madison University, with Jordan Nurney
Virginia Commonwealth University, with Casey Zapata, Alexandria Ritchie, Ben Brooks, and Khiem Tran