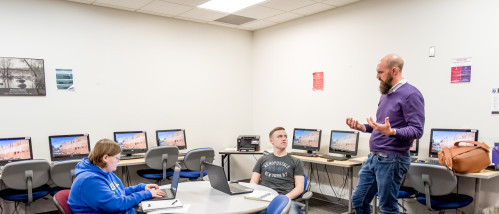 At Brightpoint, our friendly, supportive community of faculty and staff is here to help you navigate college and define what success means for you. Brightpoint offers the following academic support to students:
Academic Advising
Connect with an advisor to ask questions about what classes you should take, what degree might fit you best, declaring a major, and what your options are for transferring to a four-year college. New students work with the Advising Center and once you have selected a major, you will be assigned a faculty advisor who teaches in your major program.
Career Services
Brightpoint's Career Services can help you polish your resume and cover letter and connect you with job opportunities and internships.
Library
Brightpoint has a library on each campus, as well as tons of online resources to assist you with research for your classes. Our librarians are also available for research questions by phone, chat and in-person.
Student Accessibility Services
Brightpoint has a student accessibility services specialist at each campus that can assist with navigating instructional and testing accommodations and other supports for students with disabilities.
Tutoring in the ARC
Brightpoint's Academic Resource Center (ARC) provides free tutoring support for students in a wide variety of subjects, including writing, STEM (Science, Technology, Engineering, Mathematics), business, and study skills/tech help.
Not sure which office can help? Reach out to our Help Hub with your questions and they can guide you toward someone who can assist.