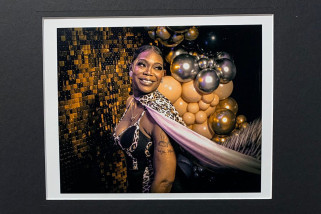 2022 Juried Student Art Show Winners Announced
The show includes artwork created in a variety of mediums.
Primary Media Contact: Holly Walker, Public Relations Manager, 804-594-1530
Secondary Media Contact: Heather Busch, Creative Services Manager, 804-594-1532
CHESTER and MIDLOTHIAN, Va. – Creative, thought-provoking and fun are just some of the words describing the artwork in the 2022 Juried Student Art Show at John Tyler, which is becoming Brightpoint, Community College. This year's show features artwork created in a wide range of mediums from paintings and photographs to mixed media and animations. Dr. Mikell Brown juried the show. Brown received a Bachelor of Fine Arts in Sculpture and a Ph.D. in Art History from Virginia Commonwealth University. Having taught art history for over 30 years, she now serves as the associate vice president of academics at Tyler becoming Brightpoint.
The 2022 winning artists are (zip codes are in parentheses):
John Tyler Community College Midlothian Campus Bookstore Award
Woman in a cape by Issac Baker (23228)
Plaza Artists Materials Award
Visitation by Emily D. Jalbert (23192)
Tabitha Orange Meadows Painting Award
Stones at Columba's Bay, Iona by Robert Wynne (23236)
Best in Show
Velvet Moon from Room and Ballet by Katy Anne Kunberger (23220)

Savedge Family Photography Award
Signs of spring by Jacquelene Foster (23805)
Jon Burnley Design Award
The Sunflower Place Website by Alan M. Perrow (23236)
Alternative Media Award
Luck by Virginia Donaldson (23065)
Karen Shipstedt Drawing Award
Drapery by Eva Jones (23112)

Honorable Mention
Sunrise by Hannah Jones (23220)
Looking Forward by Marisa Gottschalk (23114)
Timeless by Anastasia Kelley (23112)
Sheep and Wolves by Virginia Donaldson (23065)
Cubist Still-Life by Maidina Alufujiang (23226)
Still life in Charcoal by Maidina Alufujiang (23226)
Healing Nature by Valencia Coffey (23236)
The 2022 Juried Student Art Show will be on display through April 29 at the Tyler Gallery, located on the college's Midlothian Campus (800 Charter Colony Pkwy.) in room E107 of Eliades Hall. The gallery is open to the public Monday – Thursday from 11:00 a.m. – 3:00 p.m.
To learn more about the college's art programs, visit https://brightpoint.edu/academics/career-clusters/arts-communications/.
John Tyler Community College, which is becoming Brightpoint Community College on July 1, 2022, offers more than 75 majors that provide pathways to careers in high-demand fields; transfer opportunities to four-year colleges and universities; and industry credentials and licensures. The college, with campuses in Chester and Midlothian, online classes, and off-campus classrooms, served more than 12,790 students during the 2020-21 academic year. It also assisted approximately 5,700 learners, including more than 2,700 job seekers, through its workforce development division, Community College Workforce Alliance, a partnership between Tyler and Reynolds community colleges.

The ceremony will take place at the college's Midlothian Campus.
View all News