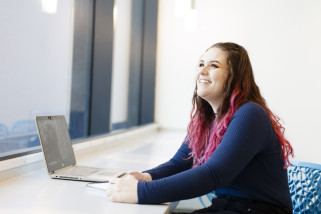 College to Offer Student Services Remotely in Early January
Need help with registration, financial services, advising or technical support as you get ready for the spring semester? Have a question, but don't know who to ask? Staff in our Help Hub are available to assist you.
Our spring semester classes kick off January 18, and we know in early January, many new and current students need assistance registering for classes and getting ready for the semester. We are here to help you.
Providing Student Support Services Remotely
Due to the current spread of COVID-19 in the area and with the health and safety of our students, faculty, staff, and community in mind, the college's student services offices will be primarily offering assistance remotely during the weekdays through January 14. Very limited staff will be on campus these days, so students are strongly encouraged to access our support services remotely.
Help Hub – Your First Stop for Assistance
Students who need assistance with or have questions about advising, registering for classes, financial services, technical support are encouraged to connect with our Help Hub. Staff in our Help Hub may be reached by phone, through text, or by visiting the Help Hub's Zoom room. Hours and contact information may be found at www.brightpoint.edu/helphub.
Access to On-Campus Computers and Internet
Students who need access to a computer or the internet may use the following computer labs:
Chester Campus – Moyar Hall, M211
Midlothian Campus – Hamel Hall, H204
Computer labs on both campuses will be open Monday – Friday from 8:00 a.m. – 5:00 p.m.
On-Campus Activities and Classes
Activities or classes originally scheduled to take place on campus in early January will be held remotely. This includes New Student Orientation sessions and SDV 100 classes. Students enrolled in CCWA workforce training courses will be notified if any class format changes need to occur.
Students are encouraged to monitor their emails for more detailed information about remote services and for other updates.