John Tyler Community College Foundation Announces 2021 Art Award Winner
Primary Media Contact: Holly Walker
Secondary Media Contact: Heather Busch

CHESTER and MIDLOTHIAN, Va. – Susan Moncure believes everyone is intrinsically an artist; you just need to be willing to challenge yourself. That is exactly what she decided to do when she signed up for a watercolor class at John Tyler Community College (JTCC). "Although I felt intimidated by the watercolor medium, I decided to be bold and explore," says Moncure. "I am so grateful I followed my instinct."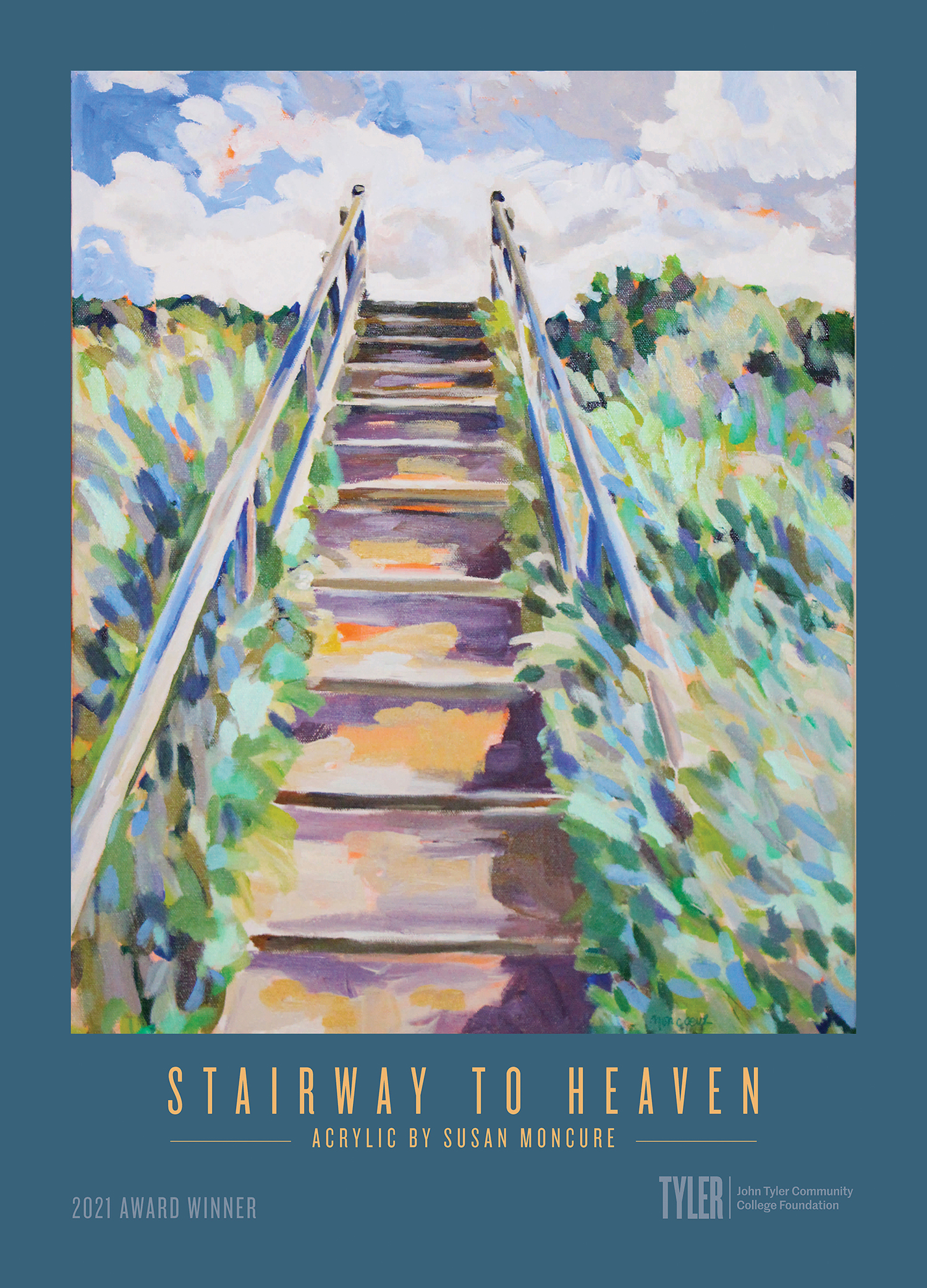 Moncure, who at the time had been working with pastels, says encouragement from Tyler art faculty member Michael Pierce prompted her to try the new medium. Moncure met Pierce when he was judging a local art show. He shared that he taught at Tyler and suggested she try out his watercolor class. Moncure, a retiree who firmly believes you are never too old to learn and have fun, signed up to audit the class as a senior. She says she found Pierce to be a phenomenal teacher who encourages his students to paint authentically. "In studying with him, I have found more freedom to demonstrate through painting how I experience the world," she says. "I'm starting to relax and play more, which I believe is the true calling for an artist."
Now, Moncure's experiences of the world are being celebrated in a new way after her painting, "Stairway to Heaven" was named the 2021 John Tyler Community College Foundation Art Award winner. Moncure says her winning artwork is tied to a spiritual retreat she took in Scotland. During a walk along a beach, a friend took a photo of stairs that led over a dune facing the ocean. That friend later asked Moncure to paint the scene. Moncure says being named the 2021 Foundation Art Award winner is incredibly meaningful. "As an artist, it can be difficult to determine if your paintings are valid, that they 'work,'" she says. "Having this painting be viewed by a variety of artists and chosen helps me to increase my confidence, to continue to be bold, and take chances in my painting." As she looks ahead, Moncure says she will continue to hone her talents and have fun with her art as she explores her creativity.
The John Tyler Community College Foundation Art Award, which originated in 1995, showcases the artistic abilities of Tyler's students. Finalists are chosen by the Foundation Art Award Selection Committee, made up of Foundation Board members and college faculty and staff. Members of the Foundation Board of Directors then select the winning entry from among the finalists. An image of the winning artwork is converted into a poster and into cards that are used by the Foundation and the college. The winner receives a financial award, a framed and matted copy of the poster, and additional posters for his or her portfolio.
In addition to Moncure (23235), the following students created artwork that were finalists for the 2021 John Tyler Community College Foundation Art Award (zip codes follow each name): Maidina A. (23226), Mary Beth Barrett (23236), Joshua Cloninger (23139), Gina Mouer (23803), Asia Rorick (23220), and Lauren Traylor (23112).
The JTCC Foundation secures resources that provide scholarships for students; fund academic programs, student support services, capital projects, and renovations to modernize classrooms and labs; and stimulate innovation within the college faculty and staff. This work ensures the college continues its pledge of providing academic excellence to students while expanding the services it offers to meet the community's workforce requirements. Since most of the College's graduates live and work in the area, gifts to the Foundation are an investment in both students and the community.
John Tyler Community College offers more than 75 majors that provide pathways to careers in high-demand fields; transfer opportunities to four-year colleges and universities; and industry credentials and licensures. The college, with campuses in Chester and Midlothian, online classes, and off-campus classrooms, served more than 13,600 students during the 2019-20 academic year. It also assisted more than 6,300 learners through its workforce development division, Community College Workforce Alliance, a partnership between Tyler and Reynolds community colleges.