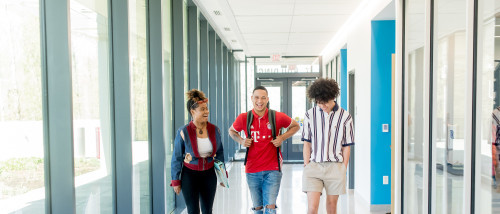 What's Next Up for You?
Whether you transfer to a four-year college or start your career after graduation, we want to help you achieve your goals. Brightpoint offers high-quality education with 75+ majors in a friendly, supportive environment.
Next Up: Transfer
With our guaranteed admissions agreements, you can build a foundation at Brightpoint to set you up for success at a four-year university.
Through her involvement in our campus community, Erica Mokun discovered her passion for illuminating other people's stories through journalism.

The connections Geovany Chavarria made at the college helped him reimagine what was possible for his future and include a bachelors degree in his career plan.

The college gave painter Joanna Pottle a strong artistic foundation and the confidence to further her academic and professional career. Now, she's a Fulbright Scholar working in Krakow, Poland.
Next Up: A Career You Love
At Brightpoint, you can get started on a new career in two years or less. We offer hands-on training that will give you the skills local employers want.
After making a career jump from electrician to designer, Jeremy Collins returned to the college to complete the electrical engineering technology degree he started 25 years earlier.

After graduating from the EMS program, Damien Winn has gone from volunteer to full time firefighter, paramedic mentor and instructor.

At the college, returning student and single mom Elena Brancato gained the confidence to soak up the full college experience. When she transferred to Virginia Commonwealth University to continue her studies in communications, she was ahead of the curve, having already completed a PR project for a real client.
Next Up: A New Career Path
You don't have to stay in a job that isn't working for you. At Brightpoint, a new career path isn't out of reach. Our flexible course options and academic support allow you to complete your degree while continuing to work.
After 22 years as a hairstylist, Tiffany Longest wanted a new career with a steady paycheck and benefits to support her family. She completed her certificate in welding and now works preparing and welding pipes for large construction projects.

After retiring from the military, Derrick Branson volunteered in his children's school to spend time with them. That experience, and the Educate VA program, kicked off a second act of service: teaching.

After 15 years working in IT, one hospital stay inspired Anissa Ellis to change her career to help others. She earned her degree in nursing at Tyler, and is now a branch director with a home health company, helping nurses make an impact in lives across the area.
Choose Brightpoint For:
Inside track to 35+ top colleges and universities
Brightpoint offers its graduates guaranteed admission to 35+ colleges and universities across Virginia and beyond, including VCU, ODU, Virginia Tech, VSU and UVA.
Marketable skills that employers value
Top companies like HCA Virginia and Altria invest in Brightpoint so that our graduates have cutting-edge expertise. Launch your career in two years or less with Brightpoint's professional certificates, individual courses and certifications.
Same four-year degree, less tuition
When Brightpoint graduates transfer to a four-year university, they earn the same degree but have more money in their pockets. Two years at Brightpoint and two years at a four-year university typically costs less than three years at a university.
Supportive environment
With an average class size of 15 students, Brightpoint offers personal attention, advising, tutoring and other support services to help you succeed.
Student life
Participate or take a leadership role in over 30 clubs and organizations, intramural sports and other activities on campus.