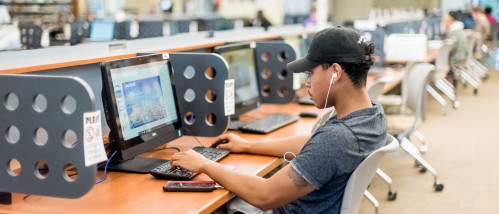 Brightpoint offers a variety of technology tools and resources to assist you with your education.
Computer Labs and Quiet Spaces on Campus
Students who need to use a computer, connect to the internet or need a quiet place to access their classes or college services, may use the following computer labs and classrooms Monday – Thursday from 7:45 a.m. – 10:00 p.m. and Friday and Saturday from 9:00 a.m. – 4:00 p.m.
Chester Campus
Moyar Hall, M211
Midlothian Campus
Eliades Hall, E309
The libraries at each campus will also be available for student use during their open hours. When coming to campus, you must follow all current safety protocols.
myBrightpoint
myBrightpoint allows you to access Canvas, the Student Information System, College email and other key resources from one location, using one login.
Multi-factor Authentication (MFA)
Starting March 1, 2022, students must use multi-factor authentication (MFA), which provides an additional level of security, when logging into myBrightpoint.
Get Support
Help Hub
Phone 804-796-4000
Locating Your Username and Password
Username
Your username is immediately provided to you once you have submitted your application to Brightpoint online. We recommend that you store your username in a safe place.
If you need to look up your username, use our username lookup tool. Please note, however, that the information you provide must match exactly what you used when you completed your application to Brightpoint. This includes using your full name or nickname as appropriate to match your application. The system is also sensitive to spaces in names and hyphenated names.
If you encounter problems and are not able to access your username online, please visit the Help Hub to get live support.
Password
You use one password for all of your accounts at the College managed through myBrightpoint: the Student Information System, Canvas and VCCS student e-mail. If you are a new student you are provided with a temporary password when you submit your admissions application. If you are not provided with a temporary password you can still retrieve your password. The first time you log in, you will be prompted to change your password immediately for security purposes. The system will direct you to change your password and select a security question. You will need to complete this process and set your password before you can access your accounts.
Introducing FLUID in SIS
In late May, the Virginia Community College System updated SIS to FLUID, which offers a new design and some new features. The introduction of FLUID changes some of the steps taken in the my Brightpoint video tutorials below. We will re-record and replace these videos as soon as possible.
Navigate Student
Navigate Student is a free online tool and mobile app that acts as your personal guide to brightpoint.
How to Register in Navigate
How to make an advising appointment in Navigate
Brightpoint Alert
Brightpoint Alert is one of the many notification tools that the College will use to alert students, faculty and staff of an emergency situation and of closings and delays due to inclement weather.
Get started, and sign up for Brightpoint Alert.
Canvas Learning Management System
Canvas is the learning platform you'll use to access your coursework and assignments digitally. In addition to logging in to Canvas through myBrightpoint, you can download a mobile app for your smartphone or tablet.
Tutorials and Support
Canvas Introduction and tutorial videos
Canvas 24-hour Student Support hotline at 877-875-8359
Search the Canvas Guides.
Zoom
Zoom is the web-based audio and video conferencing platform that Brightpoint uses for many of its courses. You can access Zoom after logging into myBrightpoint.
Brightpoint Libraries
The library offers digital resources and staff is available to provide research support in-person and virtually.
Email: library@brightpoint.edu
Phone: 804-706-5195 (Chester Campus) or 804-594-1519 (Midlothian Campus)
Academic Resource Center (tutoring help)
The Academic Resource Center (ARC) offers virtual tutoring for Brightpoint students in various subjects, along with assistance in time management and study skills.
Email: arc@brightpoint.edu
Phone: 804-594-1542

Beyond unlimited online tutoring available through the ARC, you also have access to 3 hours of tutoring per semester through BrainFuse. You can access Brainfuse by logging into Canvas and selecting the app within your specific courses.
Testing Center
Brightpoint's Testing Center is available for limited in person testing for those that have technology issues at home or for specific tests like CLEP.

Respondus is the online platform that is used for testing from home.
Respondus Overview
Microsoft Office Software Downloads
Brightpoint students are able to download a free copy of Microsoft Office.
WiFi
Students may access Brightpoint's Wi-Fi from the library and computer labs during open hours and campus parking lots.
The Brightpoint-Public (text message authentication required) network is available for basic web browsing.
Students can use the Brightpoint-Student network with their myBrightpoint username and password and the passphrase: brightpoint
Public Login Tutorial
Student Login Tutorial - Mac
Student Login Tutorial - PC
Broadband Internet Service Assistance
The FCC is currently offering an Emergency Broadband Benefit that provides a $50/month discount to households that meet eligibility requirements.
March 24 – Help Hub and Student Services Hours
Due to a staff meeting and training, on Friday, March 24, several student services offices will be closed, starting at 11:30 a.m. on the Chester Campus and 12:00 p.m. on the Midlothian Campus.
Offices and services that will be closed and unavailable, on both campuses and remotely, include: Help Hub, Financial Aid, Admissions and Records, Business Office, Cashier's Office, student navigators and advisors, and tech support.