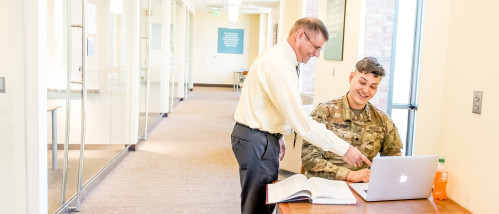 Military & Veterans Education Office
The Military & Veterans Education Office (MVEO) helps Brightpoint students in navigating the various VA educational benefit programs and helps them to maximize their hard-earned benefits. Many of the MVEO personnel have honorably served and/or retired from active-duty careers in the US Armed Forces. We strive to provide excellent and timely service so that our students can reach their personal, professional and educational goals.
MVEO helps connect:
Active-duty military,
eligible veterans,
Reservists/Guardsman,
disabled veterans (with service-connected disabilities),
and dependents
to a world of opportunity through U.S. Department of Veterans Affairs (VA) Educational benefits and related services.
Using military benefit options to assist you in paying for college.

▸
We know learning doesn't always take place in the classroom, and your military or work experience could lead to college credit. Inside the Credits2Careers portal, you can enter information about your passion areas, aspirations and geographic preferences that will help guide you toward a career path.