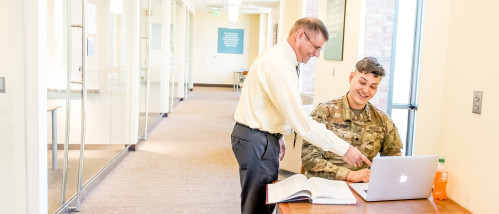 Military & Veterans Education Office
The Military & Veterans Education Office (MVEO) helps Brightpoint students in navigating the various VA educational benefit programs and helps them to maximize their hard-earned benefits. Many of the MVEO personnel have honorably served and/or retired from active-duty careers in the US Armed Forces. We strive to provide excellent and timely service so that our students can reach their personal, professional and educational goals.
MVEO helps connect:
Active-duty military,
eligible veterans,
Reservists/Guardsman,
disabled veterans (with service-connected disabilities),
and dependents
to a world of opportunity through U.S. Department of Veterans Affairs (VA) Educational benefits and related services.
Using military benefit options to assist you in paying for college.
Classes at Fort-Gregg Adams
To better serve our military-connected community members at Fort Gregg-Adams, Brightpoint is offering classes for our Business Entrepreneurship career studies certificate (CSC) and Cloud Computing CSC on base. The courses are only open to those who have access to the base and are not listed in the schedule of classes. See the course options for Fall 2023-Summer 2024 and contact Mike Murphy, Veritas Veterans Liaison at mmurphy@brightpoint.edu and 804-706-5031 to register.
Credits2Careers

▸
We know learning doesn't always take place in the classroom, and your military or work experience could lead to college credit. Inside the Credits2Careers portal, you can enter information about your passion areas, aspirations and geographic preferences that will help guide you toward a career path.