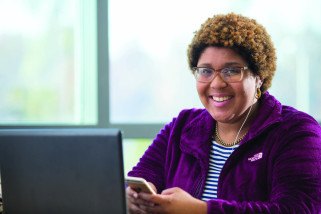 Get Ready for Your Next Steps
Register now for Winter Mini Session and Spring 2023 Classes.
Registration for Winter Mini Session and Spring 2023 classes is currently underway!
The Winter Mini Session offers students the opportunity to complete a course in four weeks, in between semesters. To help with scheduling during what can be a busy time of year, Winter Mini Session classes are taught online. To see Winter Mini Session classes, go to our schedule page, select Spring 2023 semester, and then select "Mini Session" in the "Session" field.
Brightpoint's Spring 2023 semester is designed to provide students with scheduling options that complement their lives not complicate them. Students can choose on-campus, online, Zoom or in hybrid classes, as well as courses that start later in the semester. Explore our spring schedule to see which classes are best fits for you and your needs.
Have questions or need help? Staff in our Help Hub are ready to assist you.

At Brightpoint, Heilie Sheppard positioned herself for a job she loves in machining and career advancement in mechanical engineering.

After high school, Khiem Tran spent a gap year working and saving — to achieve his dream of earning a bachelor's degree. At Brightpoint, he discovered a lasting desire to give back and took advantage of the college's guaranteed transfer agreement with Virginia Commonwealth University.

More than 400 students were named to the lists.

When John Karlsen dual enrolled at Brightpoint as a high school senior, he wanted to explore different healthcare careers before deciding on his bachelor's degree major. His associate degree in health sciences and EMT certification at Brightpoint gave him patient-care experience and a pathway for his future.
View all News