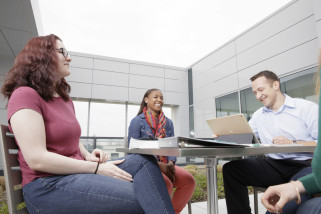 New Registration and Course Options for Students
Students can plan ahead, and create schedules that better-fit their lives and learning styles.
In an ongoing effort to meet student needs and support their success, Brightpoint Community College is offering new registration and class options for students. These options, which include registering for a year of classes, 7-week class sessions, additional course formats, and an accelerated online program, are designed to provide students with more flexibility while also helping them build a pathway to their goals.
Year-round Registration
New and returning Brightpoint students now have the opportunity to register for a full year of classes.
This new registration options allows students to plan ahead so they can keep their education on track and to create a schedule that fits into their lives, which often include family and job responsibilities. Students who sign up for classes in advance do not need to pay for all their courses at once. The college will continue to have semester-based payment deadlines and will offer ongoing support for students going through the financial aid process or who are interested in exploring the college's payment plan.
7-Week Sessions
The college's new 7-Week Session allows students to focus on fewer classes at once, while also giving them the opportunity to be a full-time student. The fall and spring semesters each include two 7-Week Sessions. Students who take at least two classes during each 7-Week Session within a semester can achieve full-time status if their total credit hours for both sessions is 12 or more. Students who can only fit one class at a time into their lives can also benefit from the 7-Week Session, as taking one class during each session gives them the opportunity of completing two, rather than one course during the semester.
New Flexible Class Formats
To offer students as much flexibility as possible, the college is making updates to the way it offers classes, known as class formats. In addition to on-campus, online (virtual), Zoom, and hybrid (blend of different class formats), Brightpoint's schedule now includes Flex options. Flex courses allow students to switch, throughout the semester, between attending class on campus or through Zoom or by completing the weekly assignments virtually. Students in these classes can adjust their attendance to meet their needs on any given class day.
Brightpoint Accelerate
The new Brightpoint Accelerate pathway is designed to help new students complete certain degrees in two years while only taking one class at a time. In this program, cohorts of students move together through highly engaging and interactive online classes that last 5 – 7 weeks. Students will complete weekly assignments during times that work best for them and can connect with other Accelerate students through chat and virtual student lounge.
Registration for Brightpoint's Summer 2023, Fall 2023 and Spring 2024 classes is underway. Those interested in exploring the classes being offered during each semester; reviewing 7-Week Session courses and classes taught in the new Flex format; and learning more about the Accelerate Pathway are encouraged to visit www.brightpoint.edu/schedule.

After high school, Khiem Tran spent a gap year working and saving — to achieve his dream of earning a bachelor's degree. At Brightpoint, he discovered a lasting desire to give back and took advantage of the college's guaranteed transfer agreement with Virginia Commonwealth University.

More than 400 students were named to the lists.

When John Karlsen dual enrolled at Brightpoint as a high school senior, he wanted to explore different healthcare careers before deciding on his bachelor's degree major. His associate degree in health sciences and EMT certification at Brightpoint gave him patient-care experience and a pathway for his future.

The college's Fall 2023 schedule includes a new class session and a new pathway that allow students to focus on fewer classes at one time.
View all News