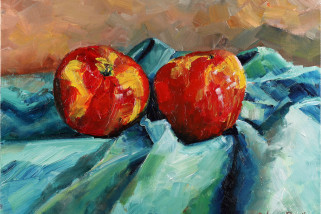 Brightpoint Community College Foundation Announces its 2023 Art Award Winner
Inspiration for the winning artwork came during a class project.
Primary Media Contact: Holly Walker, Director of Communications and Public Relations, 804-594-1530
Secondary Media Contact: Heather Busch, Director of Marketing and Brand Strategy, 804-594-1532

CHESTER and MIDLOTHIAN, Va. – During a sabbatical, Catherine Hwang made a discovery: drawing and painting filled her with joy. As an attorney, her day-to-day work involved logic, organization, and persuasive communications, so this revelation led her to dream of a second career, one focused on art and creative writing. In 2021, Hwang retired from practicing law, moved with her family from California to the Richmond area, and decided to pursue her long-held dream by enrolling in Brightpoint Community College's visual arts associate degree program. "My education at Brightpoint is an exciting building block of that encore career," says Hwang. "I so appreciate Brightpoint and the people there, who have created this safe place to grow. Every professor and administrator I've contacted has been attuned to helping students achieve their goals."
Through her classes and with her professors' encouragement, Hwang explores her art through various mediums. She holds a particular fondness, however, for working in oils, and that affection led her to create Two Apples, the winner of the 2023 Brightpoint Community College Foundation Art Award. The inspiration for Two Apples came during a class project, in which Hwang's professor instructed her students to create a work that captures glow and employs other artistic techniques including contrast and juxtaposition of color. Hwang admits her first attempt for the assignment, an abstract painting using acrylics, did not evolve as she imagined. So, with her professor's approval, Hwang took a new approach, this time using oils. "One afternoon, I noticed that a couple Honeycrisp apples positively glowed against a green cloth napkin," says Hwang. "And so, Two Apples was born. It flowed out effortlessly, unlike the other painting, which was too studied, academic, and frankly beyond my knowledge of abstract art." Hwang says she is honored to have been chosen as the Art Award winner and to know others are enjoying her work. She believes it's a sign that her decision to focus on art is the right one. "After years of crafting compelling arguments, I'm happy to turn my attention toward creating compelling works of beauty," she says. As she considers her future as an artist, Hwang says she would like to ultimately create art that makes social and political statements, but first, she plans to focus on technical mastery, finding her visual voice, and learning how to develop relationships with viewers.
The Brightpoint Community College Foundation Art Award, which originated in 1995, showcases the artistic abilities of the college's students. Finalists are chosen by the Foundation Art Award Selection Committee, made up of Foundation Board members and college faculty and staff. Members of the Foundation Board of Directors then select the winning entry from among the finalists. An image of the winning artwork is converted into a poster and into cards that are used by the Foundation and the college. The winner receives a financial award, a framed and matted copy of the poster, and additional posters for their portfolio.
In addition to Hwang (23112), the following students created artwork that were finalists for the 2023 Brightpoint Community College Foundation Art Award (zip codes follow each name): Sue Berinato (23060), Josh Cloninger (23139), Vivian Harlan (23120), Emily D. Jalbert (23192), Hannah Jones (23235), and Robert Wynne (23236).
The Brightpoint Community College Foundation secures resources that provide scholarships for students; fund academic programs, student support services, capital projects, and renovations to modernize classrooms and labs; and stimulate innovation within the college faculty and staff. This work ensures the college continues its pledge of providing academic excellence to students while expanding the services it offers to meet the community's workforce requirements. Since most of the college's graduates live and work in the area, gifts to the Foundation are an investment in both students and the community.
Brightpoint Community College, formerly John Tyler Community College, offers more than 80 majors that provide pathways to careers in high-demand fields; transfer opportunities to four-year colleges and universities; and industry credentials and licensures. The college, with campuses in Chester and Midlothian, online classes, and off-campus classrooms, served more than 11,400 students during the 2021-22 academic year. It also assisted approximately 5,700 learners, including more than 2,700 job seekers, through its workforce development division, Community College Workforce Alliance, a partnership between Brightpoint and Reynolds community colleges.