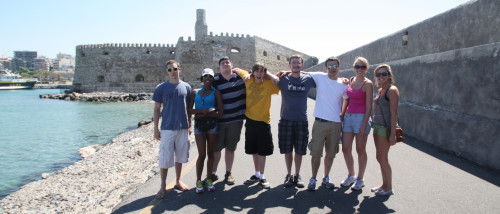 Studying abroad transforms the way you look at the world and yourself. For more than two decades, Brightpoint has organized educational trips to places such as Greece, France, Vietnam, Italy, England, Scotland, Ghana and Peru.

The courses we've covered have been just as diverse. Students have earned college credit in nursing, Spanish, philosophy, theatre, information technology, history, English, art and more, all while immersing themselves in the communities and cultures they visit.
Whether you choose to participate in one or all of the courses covered during a particular trip, you can participate in all planned activities.
Upcoming Trips
No trips are currently planned at this time.
Funding Your Trip
Brightpoint is committed to making international education experiences affordable and accessible.
Inclusive, High-Value Programs
With tuition and fees about one third of what you would pay at a public four-year college or university in Virginia, Brightpoint is an affordable option for studying abroad. Brightpoint's study abroad programs are designed to include lodging and airfare, as well as some meals and admissions. Booking accommodations, airfare and admission tickets as a group helps keep the overall cost of studying abroad more affordable.
Each trip has unique costs. Factors that influence the final cost include number of participants, number of courses and airfare. See trip documents for specific costs for each trip.
Foundation International Studies Scholarships
Faculty at the college who are committed to the importance of international education have established scholarships to financially assist students enrolled in courses that require travel and study abroad. These scholarships can be used for tuition, books, fees and required supplies during summer study abroad experiences.
Financial Aid
In many cases, eligible students may use their financial aid to fund international education. All need-based and merit-based aid, with the exception of work-study support, is transferrable to tuition and fees for Brightpoint's international study programs.