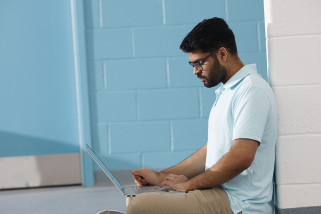 College to Begin Spring Semester Remotely
For the safety of our college community, most spring classes will be held remotely, and student services will primarily provide support remotely. 
For the safety of our college community, we will be starting our Spring 2022 semester remotely.
Classes
From January 18 – 29, with few exceptions, all classes scheduled to be held on campus will meet on Zoom. Classes already scheduled to be held through Zoom and virtual classes will be unchanged. Students should monitor their college email and check their classes in Canvas for important updates from their instructors. Zoom links are expected to be posted on the first day of the scheduled class meeting.
Student Services
The college's student services offices will also continue to primarily offer remote support during this timeframe. Limited staff will be on campus, so students are strongly encouraged to access services remotely. These offices will offer expanded hours the first few days of the semester. From January 18 – January 20, student services will be available 8:00 a.m. – 7:00 p.m. (Offices will only be offering services remotely from 5:00 – 7:00 p.m. these days.)
Access to Computers, the Internet, or a Quiet Place to Work
Students who need to use a computer, connect to the internet or need a quiet place to access their classes or college services, may use the following computer labs and classrooms Monday – Thursday from 7:45 a.m. – 10:00 p.m. and Friday and Saturday from 9:00 a.m. – 4:00 p.m.
Chester Campus
Moyar Hall, M211 (computer lab)
Moyar Hall, M115 (computer lab)
Moyar Hall, M136 (classroom)
Midlothian Campus
Hamel Hall, H201 (computer lab)
Hamel Hall, H204 (computer lab)
Eliades, E113 (classroom)
The libraries at each campus, will also be available during their open hours for student use.
Have Questions?
Students who have questions about a specific class should contact their instructor.
Students who have other questions about the start of the semester, the college, signing up for spring classes, financial services, signing into myTyler for your classes, or college technology are encouraged to contact our Help Hub.