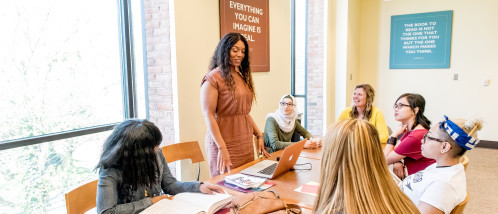 Library Hours
Monday-Friday: 8:00 a.m. - 5:00 p.m.
Saturday and Sunday: closed
Contact Us
Chat with the Brightpoint Libraries
Need help with library services or resources? Use the button below to connect with the Brightpoint librarians and staff. The Brightpoint Libraries are available on the Ask-a-Librarian service from 8 a.m.–5 p.m. on Monday through Friday. Questions submitted outside of these hours will be answered by librarians from other VCCS colleges or academic institutions.
Library Locations
Midlothian
800 Charter Colony Pkwy
Midlothian, VA 23114
Hamel Hall, H202
Circulation: 804-594-1519
Reference: 804-594-1520
Fax: 804-594-1525
Chester
13101 Route 1
Chester, VA 23831
Moyar Hall, M216
Circulation: 804-706-5195
Reference: 804-706-5198
Fax: 804-796-4238
Mission Statement
The Library provides quality instructional support services to enhance learning and ensure access to information for all by:
• Providing support services for teaching and learning
• Providing quality information resources, technology and training to ensure access to resources
• Offering instruction in Information Literacy
• Encouraging lifelong learning

The Library supports the American Library Association's statement on intellectual freedom as a basic tenet of its mission.
Librarians
Suzanne Sherry, Director of Library Services
804-706-5201 (Chester Campus, Moyar Hall, M216)
804-594-1523 (Midlothian Campus, Hamel Hall, H202)
Lisa Payne, Open Education Resources and Instruction Librarian
804-706-5202, Chester Campus Library - Moyar Hall, M216e
Molli Gonzalez- eLearning and Instruction Librarian
804-594-1518, Midlothian Campus Library - Hamel Hall, H202h