Next Up: A Career That Matters
After 15 years working in IT, one hospital stay inspired Anissa Ellis to change her career to help others. She earned her degree in nursing at Tyler, and is now a branch director with a home health company, helping nurses make an impact in lives across the area.
Anissa Ellis had built a 15-year career in information technology when one hospital stay changed her entire outlook on life.
Following surgery, her care team made a real difference in her day, causing her to reflect on her own career. She felt unfulfilled because she wasn't interacting with people in life-changing ways.
"I had a good job, but I did not feel like I was contributing anything to the world," Anissa said. "I wanted something where I could feel proud and make a difference in my community."
She started asking herself, "Is that something I could do? Could I make something so scary a more positive experience for someone who is also going through a challenge in his or her life?"
Here's how she answered:
Roll up your sleeves with the best
After researching programs, she discovered that Tyler, now Brightpoint, is known for its stellar nursing program. And the college's students had the outcomes to back up the reputation.
"Tyler's students more frequently pass the NCLEX exam. More of them were offered jobs right after graduating, if they had not already landed jobs before," Anissa said. "Student GPAs were really high, so I knew that it was a program that was going to challenge me. I did not find that combination of successes in any other school in Central Virginia."
Experience life as a nurse
"The college has such a stellar reputation that every clinical was like a mini job interview," Anissa said. "By the time my clinical was over, they were asking me to consider working in that particular unit after graduation."
For her rotations at Johnston-Willis Hospital and Chippenham Hospital, she was responsible for assessing patients, preparing medications and assisting the lead nurse.
"Everything that happens in the real world are things that you do in fourth semester," Anissa said. "By the time you graduate, you are competent, capable, safe and ready to start working with patients on any floor right away."
Lean on your support system
Anissa took a 60-percent pay cut as a business systems analyst to take a full-time nurse's aide position at Virginia Commonwealth University while attending the college five days a week.
"It's pretty difficult to work a full-time job and learn an entirely new skill," Anissa said. "Tyler taught me the time management skills on how to balance school, get my studying done and develop the interpersonal relationships that you need interact with different people and work together on projects."
To power through a challenging program and manage a work-life balance, seeking out friends and professors for support was at the top of her list.
"Every nursing student that I've come across doubts themselves at some point in the program," Anissa said. "Nursing school is not easy. But it's not supposed to be. You have someone's life in your hands, so you need to know what you're doing and how you're going to handle it. And you need professors who understand and encourage you.
"By the time you graduate, you are competent, capable, safe and ready to start working with patients on any floor right away."
Anissa Ellis
Branch Director, Home Health Company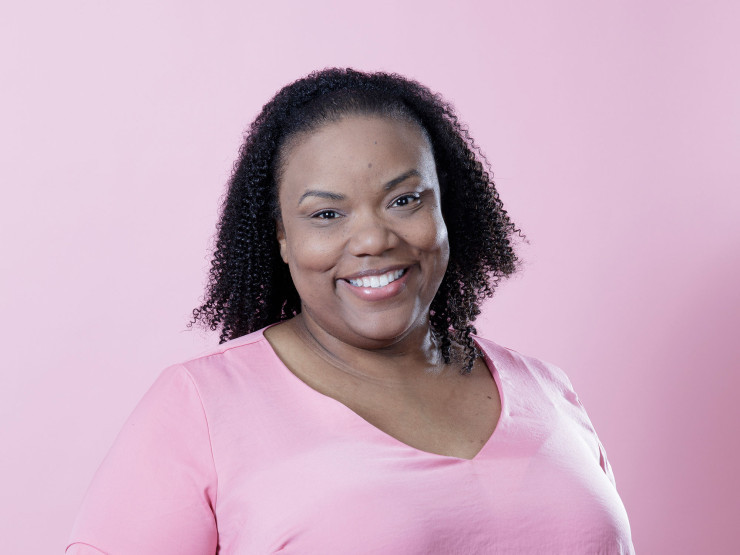 Touch patients' lives
During Anissa's info session at the college, someone said, "If it's going to happen, it will happen while you're in nursing school." And that rang true for Anissa.
While in the nursing program, she lost family members, she lost patients, and she had to figure how to process it all.
"Having to deal with those personal things and still go through such a rigorous program, it almost mirrors working in any clinical setting," Anissa said. "In one room, you may have had a patient who has come to the end of their journey in this life and they've passed away. But you have to figure out how to process those emotions, because in the very next room, you still have another patient to take care of."
As a student, she didn't expect to play such a primary role in her patients' lives.
"One family gave me the honor of being there when their daughter was born. They actually let me hold their daughter while we were still in the operating room. It was an incredible experience."
"My patient who passed away, it was on her birthday. The family invited me in to bid her farewell. It's a real honor that people allow you, as their nurse, into their lives to share in their greatest moments and their greatest sorrows. I never knew that I could do that. But it's an incredible honor that I don't take lightly. Our patients have that faith in us and want us to be there in those moments."
Travel abroad
As a member of the Phi Theta Kappa Honor Society, Anissa was selected as a U.S. nursing delegate to study in Australia. For two weeks, she networked with nursing students from around the world and learned about midwifery, Aboriginal medicine and the challenges in implementing a vast universal health care system.
"At the time, the U.S. was also considering a universal health care policy," Anissa said. "It gave me a different perspective on the political side of medicine and how to provide care for everyone and still be able to operate fiscally."
Following that trip, she received a scholarship to study ancient civilizations in Greece with the college's study abroad program, retracing ancient medical practices.
"We walked through the gardens that philosophers walked through. We looked at how they lived," Anissa said. "They had illnesses, all of the things we had to deal with today."
Step up when you're needed most
Before she graduated, Anissa already had a job lined up as a registered nurse at VCU Medical Center. She joined a new program VCU piloted in the surgical services/operating room area, which included rotations in acute care pediatrics, surgical trauma ICU and other specialty areas.
"They piloted the program because they wanted their nurses to be more well-rounded," Anissa said. "Throughout that program, my co-workers all assumed that I had graduated from a four-year program and not a two-year program, which speaks to the high quality of Tyler's program."
Now she's pursing an online BSN with the University of Alabama, while working full-time as the Branch Director for Encompass Health, where oversees office staff as well as clinical staff who provide medical services to patients in their homes.
"I owe a lot to Tyler instructors," Anissa said. "They made us learn how to think through the problem. One of the things that has helped me excel both in my career in the hospital and now in home health is this: how do I solve these clinical problems efficiently, economically and for the best outcome for my patients? Those critical thinking skills started at Tyler."