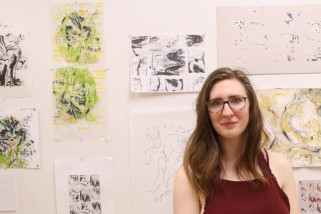 Next Up: Fulbright Scholar
The college gave painter Joanna Pottle a strong artistic foundation and the confidence to further her academic and professional career. Now, she's a Fulbright Scholar working in Krakow, Poland.
Joanna Pottle doesn't remember a time in her life when she wasn't creating.
"My mom jokes that as a young child, I was always filling pages with color and bizarre shapes," Pottle said. "My family is all creative and artistic, so art is not only something I was personally interested in, but I was encouraged in."
Pottle wanted to continue to study art in college, but was nervous about her career prospects, especially since she was paying for her own education.
She chose to start at John Tyler Community College, now Brightpoint, to explore her options and see if the artist's life was a good fit for her. She soon found that it was.
"My time at the college taught me in a graceful but challenging way that as much experience as I had making art, I had to relearn a lot and go back to basics," she said. Through foundational courses in drawing and painting, as well as art history courses and general education requirements, Pottle earned an associate of applied arts degree in visual arts that she says gave her a strong foundation to transfer to finish her bachelor's degree.
"My Tyler experience got me feeling confident in being not just involved, but taking a leadership role in artistic and professional experiences."
Joanna Pottle
Artist, Fulbright Scholar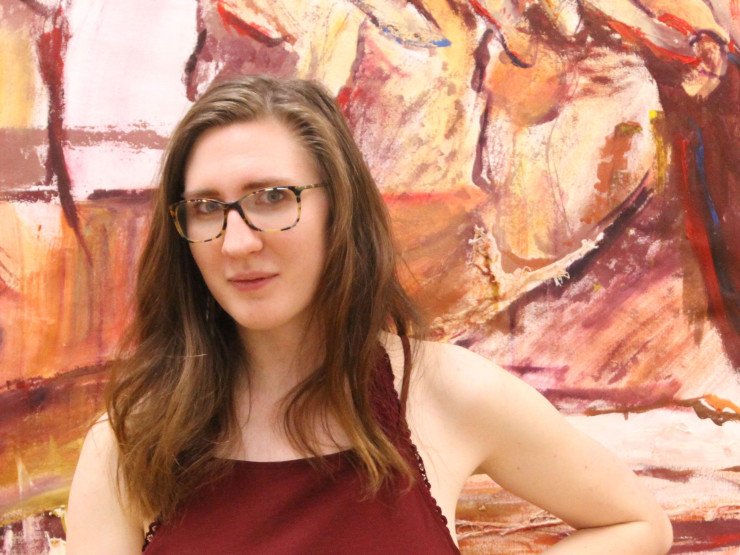 But beyond the knowledge and art-making experience she gained, Pottle says that the sense of community she found at the college was invaluable. She built strong relationships with Professor Colin Ferguson and Dr. Paula Winn, and got involved with a number of student groups, including Art Club and as an Academic Resource Center tutor, from which she's made lasting friendships. "Tyler really tries to facilitate meaningful ongoing connections with students and faculty," Pottle said.
After graduating from Tyler in 2016, Pottle transferred to James Madison University, where she will complete a B.F.A. in studio art, painting and drawing; a B.A. in art history; and an art education licensure this spring. She quickly found that Tyler had prepared her well, not only with a strong artistic foundation, but with the ability to get involved right away and make connections to further her academic career. "My Tyler experience got me feeling confident in being not just involved, but taking a leadership role in artistic and professional experiences," Pottle said. "I've gotten to know faculty better, and I've gotten a lot of scholarships and grants to support my education partially due to the fact that I've been involved and built relationships with my faculty."
Even after transferring, Pottle stayed connected with her Tyler community, which led to a new professional opportunity: an invitation from Winn to exhibit her work in the college's on-campus art gallery this spring. "I've been wanting to showcase my whole body of work together to show my artistic progression, and this exhibit was a wonderful opportunity to do that," Pottle said.
Pottle's plans post-graduation are to continue making art. She has received a Fulbright Scholarship and will spend the next year in Krakow, Poland, working with the Museum of Contemporary Art in Krakow and the Jan Matejko Academy of Fine Arts on various artistic, curatorial and educational projects.
"I want to use my work to promote the importance of community, and to demonstrate how art making and community can combat different kinds of dysfunction in a healthy way," Pottle said. "I believe art can be a way to generate meaningful conversation and tangibly affect change, and that's what I'm trying to pursue after I graduate."