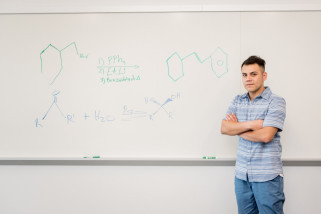 Next Up: Medical School
Gervyn Fajardo Franco always loved science, but growing up in Guatemala caring for his quadriplegic father, a career in medicine seemed far out of reach. The college made it feel possible again.
Gervyn Fajardo Franco grew up caring for others.
"My father was paralyzed in a car accident when I was 5 or 6 and became a quadriplegic," he said. "I grew up helping care for him, and that experience made me want to help people."
Franco had always loved science, but growing up in Guatemala, a career in research or medicine seemed too far out of reach. After he moved with his family to the U.S. when he was 14, he thought his lack of English language skills would hold him back, even though he had done well in his high school science classes.
After high school, Franco set his sights on what he thought was a more attainable path, and spent time apprenticing with his brother as an electrician. He quickly learned that the field wasn't a good fit and enrolled at Tyler, now Brightpoint, to study science.
"I came to the college because I really wanted a strong foundation," Franco said. "I knew if I went straight to a four-year school, my English skills would have held me back; Tyler helped me build a strong foundation in the language." In addition, he found community through supportive faculty and staff and student groups like Thrive, the student Christian organization. "People really care about each other here, and that's not something you find everywhere," he said.
"People really care about each other here, and that's not something you find everywhere."
Gervyn Fajardo Franco
Biomedical sciences masters student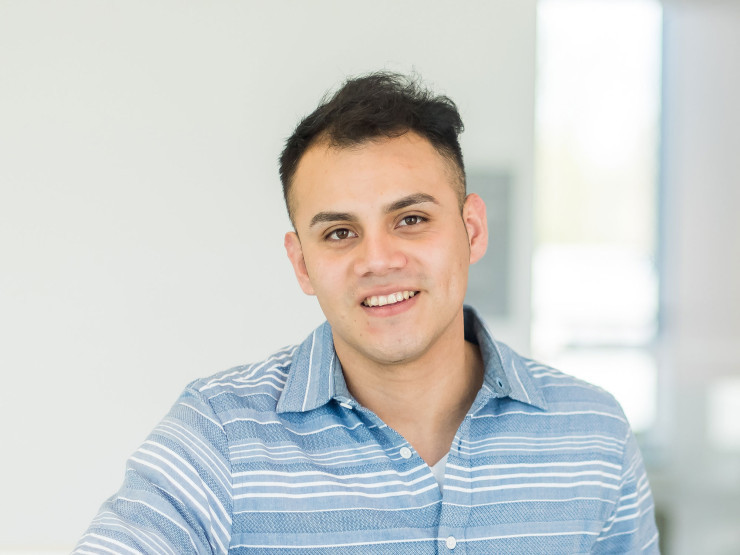 During his time at the college, Franco began to think that medical school could be a possibility. He applied for the Bridges to the Baccalaureate Dream-to-Goal program, which offers community college students who are underrepresented in the sciences the chance to spend two summers at Virginia Commonwealth University (VCU) learning laboratory research techniques with a VCU scientist as a mentor. "It was an amazing experience; my assigned research advisor, Dr. Maria Teves, is from Argentina, and she taught me so much and was so passionate about our work," he said.
After receiving his associate of science degree and transferring to VCU, Franco earned a coveted research position in Teves' lab by getting accepted into the Initiative for Maximizing Student Development (IMSD) research program. He has gotten to design his own research project and conduct experiments over the past year. Franco's research looks at the role of the SPAG17 gene in embryonic development, as well as how SPAG17 regulates skeletal development by promoting bone growth and mineralization.
He has presented his research at the 2018 Virginia Academy of Science meeting held at Longwood University; the Biomedical Research Conference for Minority Students in Indianapolis, IN; and the 2019 Mid-Atlantic Prep & IMSD Research Symposium held at Wake Forest School of Medicine. He will also be listed as an author on a forthcoming article written by Dr. Teves. And he's done it all while working part time as a personal care aide, gaining skills he feels will make him a better doctor.
Franco is on track to graduate from VCU in 2020, and while he plans on medical school, he's considering taking a gap year to continue his research or complete the required internship hours to earn his medical assistant certification, volunteer hours and shadow some doctors.