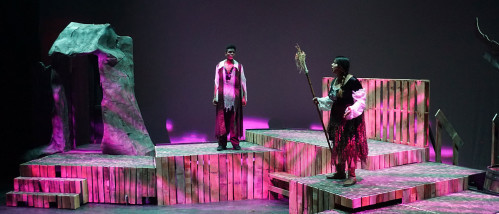 In the Lynn Theatre on our Midlothian campus, Brightpoint presents theatre productions, musical performances, and improv featuring our students. We also open our space to community arts groups to present performances.
---
Want to purchase tickets to an upcoming performance? Visit our Box Office in the Trailblazer Hall on the Midlothian Campus or email us.
LEGACY OF LIGHT by Karen Zacarias opens the season in November 2022. Exploring love, motherhood, family, and the careers of two exceptional scientists living hundreds of years apart, LEGACY OF LIGHT interweaves the life of a contemporary physicist and that of Émilie du Châtelet, the woman who brought Newtonian physics to the French-speaking world. Directed by Zack Owen.
The world premiere of JUMP BABY, an original musical by Rachel Landsee, inaugurates The Lynn Theatre Studio Series of winter performances. Based on true events, JUMP BABY tells the story of married Army officers whose family life is repeatedly interrupted by the demands of military service in the era of the War on Terror. JUMP BABY opens in January 2023. Music by Mark Messing. Directed by Kerrigan Sullivan.
In the rousing Calypso-flavored musical, ONCE ON THIS ISLAND, forlorn love becomes the seed that unites a divided island. ONCE ON THIS ISLAND opens in March 2023. Book and Lyrics by Lynn Ahrens, music by Stephen Flaherty, based on the novel, "My Love, My Love" by Rosa Guy. Directed by Foster Solomon.
Learn more about performances and events at The Lynn Theatre at brightpoint.edu/theatre and follow us on Facebook, Twitter and YouTube. Throughout the year we will announce ticket sales, audition opportunities, as well as free Workshop performances including class Showcases, Theatre Club events, and the highly anticipated Brightpoint Chorus Ensemble's end-of-semester performances!
LEGACY OF LIGHT is produced by special arrangement with THE GERSH AGENCY, 41 Madison Avenue, 29th Floor, New York, NY 10010.
ONCE ON THIS ISLAND is presented through special arrangement with Music Theatre International (MTI). All authorized performance materials are also supplied by MTI. www.mtishows.com