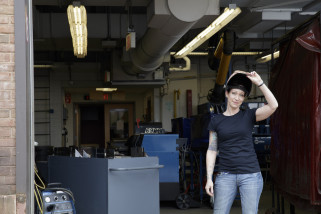 Next Up: Industrial Welder
After 22 years as a hairstylist, Tiffany Longest wanted a new career with a steady paycheck and benefits to support her family. She completed her certificate in welding and now works preparing and welding pipes for large construction projects.
She used to fashion hair. Now Tiffany Longest is refashioning her career.
After 22 years as a hair stylist, she needed a change. As a single mother, Tiffany wanted a career that delivered a steady paycheck and appealing benefits.
"After all those years of doing hair, I was getting burned out," Tiffany said. "I've never received paid vacation. I had no 401k. I'd worked for over 20 years with nothing to show for it."
That's when she started welding classes at Tyler, now Brightpoint, and learned how to transform metal into mailboxes.
After discovering a knack for pipe welding, obtaining a career studies certificate and securing an important industry certification, she landed a job with Atlantic Constructors, preparing and welding pipes for large-scale construction projects that range from hospitals to manufacturing facilities.
Here's how she made big changes:
See yourself doing something boldly different
Tiffany's friend had taken nursing classes at the college and raved about her experience. She encouraged Tiffany to explore other possibilities at Tyler/Brightpoint and apply for financial aid to make her new career happen.
After six months of mulling it over, Tiffany toured the Chester campus, not far from her home.
She first looked into precision machining and mechanical maintenance, but when she walked into the welding department, something clicked.
"It was different. I heard grinders and machinery going, and it felt good,"said Tiffany, contrasting the sounds with the salon banter she was used to hearing in her workspace. "I thought the atmosphere was right for me."
She transformed her future with a career studies certificate in welding-a credential that also armed her with an important industry certification as an AWS Entry-Welder, setting her apart in safety, blueprinting and structural welding.
"My kids thought it was really cool," Tiffany said. "My son is 11, and at first, he didn't understand what studying welding meant. Now he wants to weld."
"The support I received from everyone I encountered kept me motivated. It truly changed who I am as a person."
Tiffany Longest
Industrial Welder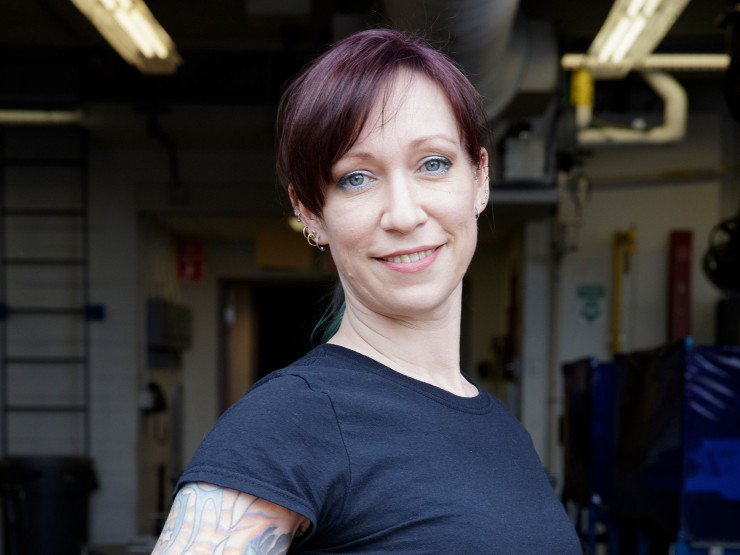 Renew your confidence
She worked hard to maintain a 4.0 grade point average, while being a mother and continuing to work. Even though she admits that juggling it all was stressful at times, Tiffany said the support she got from her professors made the biggest difference.
"Tyler made me prioritize and focus on what was important," Tiffany said."It gave me patience in realizing that this change in careers was going to take time. I fought against odds and won, which gave me confidence I didn't have before. The support I received from everyone I encountered kept me motivated. It truly changed who I am as a person."
Seize unexpected opportunities
When representatives from Atlantic Constructors visited Tiffany's class, they recruited her to participate in a paid trainee program for pipe welding that leads to full-time employment. Her professor touted her skills, knowing she would be a perfect fit for the construction company.
"I chose pipe welding because I had never done it before," Tiffany said."They paid me to practice for three or four months until I was able to pass their test."
But she had seen pipe welding before. In one course, her professor invited local employers to demonstrate various techniques used in the workplace, including pipe welding. Now she works with 1-inch and up carbon steel and stainless steel in Atlantic Constructors' fabrication shop, preparing and welding pipes for construction projects that range from hospitals to manufacturing facilities.
"At Tyler, I learned everything that I needed to know," Tiffany said. "It built my confidence and what I was capable of. I believe in myself. I'm happier with myself, and I attribute that to Tyler."