Next Up: Therapist
To Brittany Woolridge, Great Expectations is not just the title of a novel by Charles Dickens. It's the name of a Brightpoint program that has supported her on the way to "where God placed me to be," she says. "Helping others, whether adults or kids, I feel like that's where I'm supposed to be."
To Brittany Woolridge, Great Expectations is not just the title of a novel by Charles Dickens. It's the name of a Brightpoint program that has supported her on the way to "where God placed me to be," she says. "Helping others, whether adults or kids, I feel like that's where I'm supposed to be."
When she crossed the Brightpoint graduation stage, she was the first in her family to earn a college degree — an unlikely outcome after a tumultuous upbringing. Brittany and her two siblings sometimes lived without food, electricity or any permanent home at all. She eventually found some stability with a foster mother, staying with her even after official foster care ended, but left when she became a mother herself at age 21.
Make a fresh start
Before finding her way to Brightpoint, Brittany made a stab at a nursing degree at another community college but says she wasn't "focused enough and didn't do my best work. Brightpoint was a clean slate. I was able to start over, to redeem myself."
Critical to her fresh start was Great Expectations, a financial and academic support program for students who have been in Virginia foster care. It has given Brittany the tools and confidence to complete her degree in human services, pre-social work specialization, placing her on the path to a bachelor's degree in social work.
"I chose social work because of my life experience," she says. "My mom was on drugs, and my dad was in and out, but mostly in jail." Her ambition is to be an outpatient therapist, certified in substance-abuse counseling, and someday lead a nonprofit that benefits homeless people.
"Brightpoint was a clean slate. I was able to start over, to redeem myself."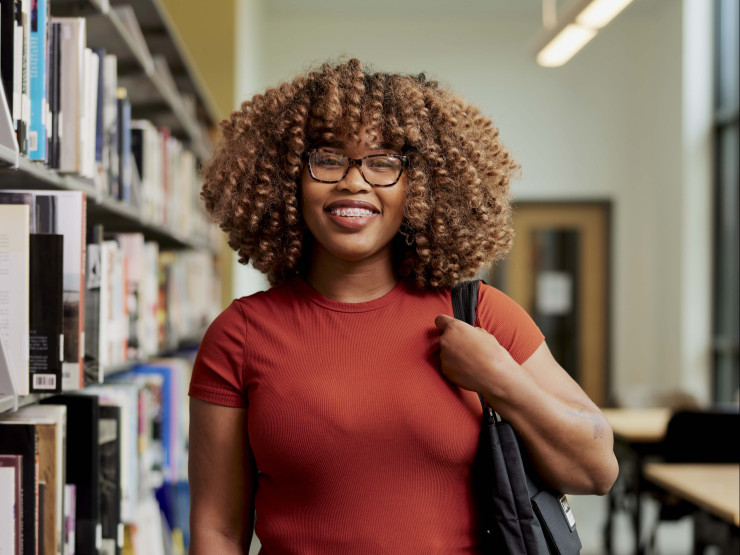 Get support to build your confidence
Great Expectations career coach Elizabeth McKey has been instrumental in her success. Brittany struggled with math more than any other subject, dropping the class after her first attempt. But with McKey's support, she gave it another try. "This whole school journey I had that one-on-one support," she says.
To tackle her math anxiety, "we came up with a game plan," Brittany recalls. "I had a tutor and was studying every day. Miss McKey motivated me. She said, 'You've got this.' I was able to get a C, and I was proud of my C."
Strive for better
The program also provided workshops in study skills and résumé building, as well as opportunities to meet her peers. Brittany says of her Great Expectations cohort, "We are all striving for better, which creates a sense of family and purpose."
Most of Brittany's classes have been taught online, which allows her to arrange schoolwork around her job at Soaring for Change Counseling Services and caring for her 6-year-old son.
Now completing her social work practicum, which combines face-to-face classes with observations in a social-work setting — conveniently, her actual employer — Brittany is armed with greater confidence as she transfers to a Virginia university. She feels well equipped to serve her future counseling clients: "I feel confident that I will do well."
After high school, Khiem Tran spent a gap year working and saving — to achieve his dream of earning a bachelor's degree. At Brightpoint, he discovered a lasting desire to give back and took advantage of the college's guaranteed transfer agreement with Virginia Commonwealth University.

More than 400 students were named to the lists.

When John Karlsen dual enrolled at Brightpoint as a high school senior, he wanted to explore different healthcare careers before deciding on his bachelor's degree major. His associate degree in health sciences and EMT certification at Brightpoint gave him patient-care experience and a pathway for his future.

The college's Fall 2023 schedule includes a new class session and a new pathway that allow students to focus on fewer classes at one time.
View all News