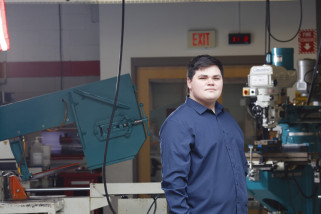 Next Up: Entrepreneur
Daniel McCloud started his associates degree in machining while still in high school, and then scored an internship with Rolls Royce that turned into a full-time job. Now he has returned to the college to build his business skills as he starts his own business.
While still in high school, Daniel McCloud forged halfway through an associate degree at John Tyler Community College, now Brightpoint—and scored a machining internship with Rolls Royce that turned into a full-time job.
Now with a degree and multiple credentials in precision machining, he's looking forward to his next venture: launching a laser engraving business and returning to the college to build his business acumen.
Here's how he turned his awe of machining into a career:
Tap into something new
As a concurrent enrollment student, Daniel signed up for his first manufacturing course at Tyler, now Brightpoint, and it opened up a whole new world. It was the first time he'd ever worked with precision equipment such as lathes, mills and calipers.
"I'd never really thought about a manufacturing environment before," Daniel said. "When I got into the class and learned what machining was, it blew me away. Now I can take a piece of stock, which is a round piece of metal, and envision something in it — something useful or decorative."
Get insider knowledge
His instructors introduced him to 30+ manufacturers in the area seeking employees. Daniel leveraged his new connections and set up job shadowing at multiple facilities.
"In addition to operation machining, there was real hardcore manual machining, where chips are flying in your face and there's oil everywhere," Daniel said about getting an inside look at different companies. "There was also CNC or electric discharge machining, which is pretty clean. It uses electricity to cut instead of your typical cutting tools. I got to network with as many people as I could, and when it came time to look for a job, I had several offers."
While taking precision machining, he toured Rolls Royce's manufacturing facility, where he learned about its internships for high school seniors. Two weeks after high school graduation, he started a Rolls Royce internship as a machine operator, creating turbine blades for jet engines. It allowed him to work and receive tuition assistance for his Tyler degree, and to gain experience for his promotion to full time.
"It's great to be successful in the field that I was learning about in high school, and to know that I could do anything with it," Daniel said. "I had no idea what I wanted to do with my life. Tyler gave me direction and taught me that I really enjoyed manufacturing and doing this kind of work."
"I had no idea what I wanted to do with my life. Tyler gave me direction and taught me that I really enjoyed manufacturing and that kind of work."
Daniel McCloud
Entrepreneur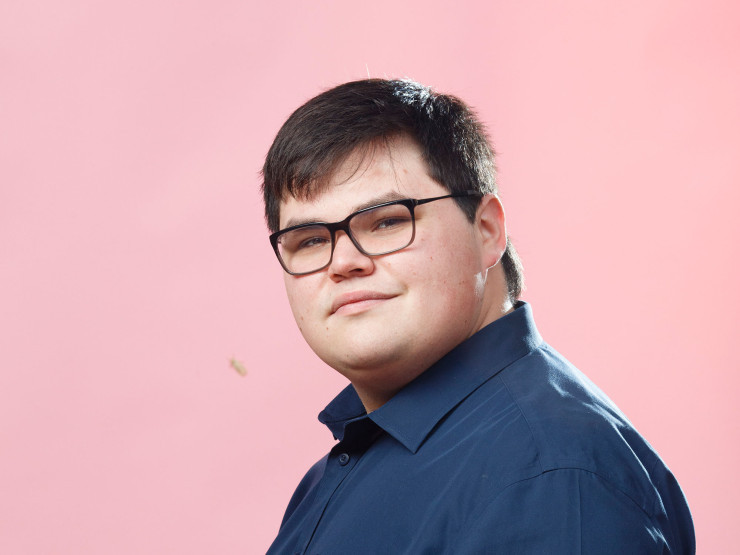 Stand out with in-demand skills
At Rolls Royce, his part of the assembly line involves creating film-cooling holes in turbine blades using electro discharge machining or EDM.
"Basically it creates an air barrier when the plane is in flight because the blades operate at about 3,000 degrees higher than their melting point," Daniel said. "My job ensures there's a barrier to keep the blade cool while it's running at such high temperatures."
Through Rolls Royce's partnership with the college, he learned how to use an electric discharge machine on the college's campus.
"For every machine Rolls Royce had, Tyler basically had a course on it or something similar to it," Daniel said.
Pilot your own business
When, Rolls Royce announced it was closing its local plant, Daniel pivoted. At Tyler, he was among the first to test its new laser engraver, which has sparked his newest project, McCloud's Lazer Works.
"I fell in love with it, so as soon as I had the money, I bought a laser engraver," Daniel said.
Through his business, he engraves acrylic at the base of lights, illuminating it with different colors, and works with other materials like leather, wood and other plastics. Next he wants to pursue a four-year degree plan in business management through Tyler.
"I had no idea what I wanted to do with my life," Daniel said. "Tyler gave me direction and taught me that I really enjoyed manufacturing and doing this kind of work."