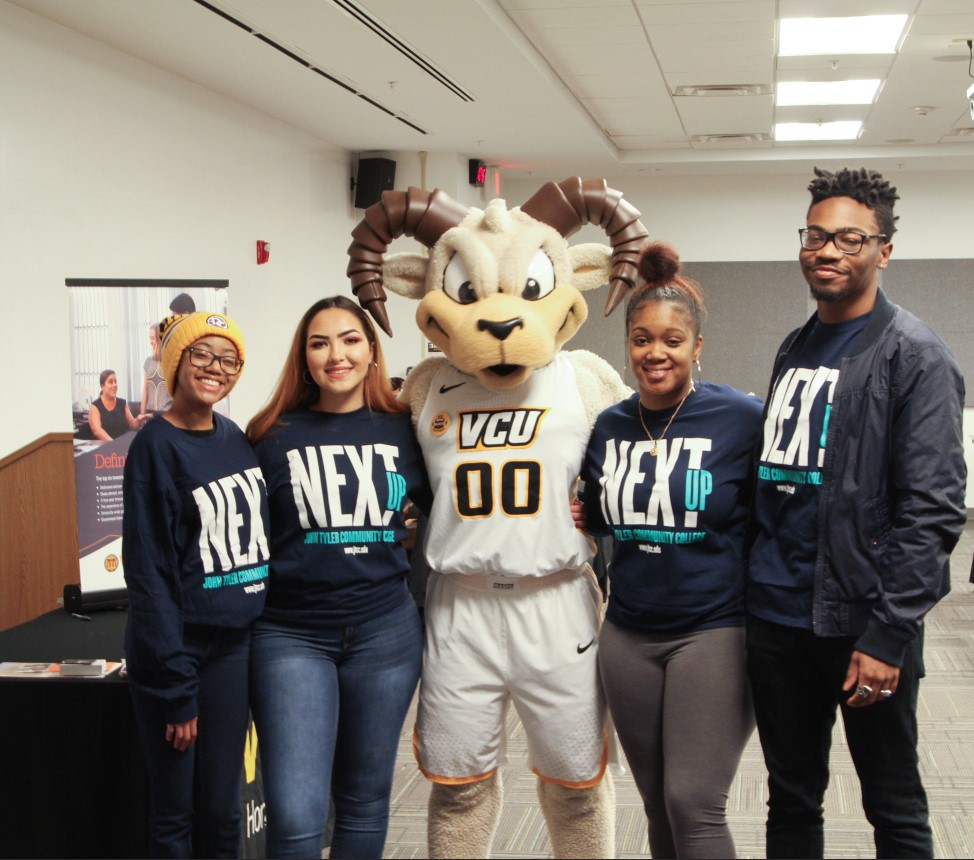 The Mellon Pathways Program is a partnership between Brightpoint Community College, Reynolds Community College (Reynolds) and Virginia Commonwealth University (VCU). The program offers pathways, resources and support for students who are completing their associate degree at Brightpoint or Reynolds and planning to transfer to VCU to complete their bachelor's degree in the arts or humanities.
Students participating in the Mellon Pathways Program also have the opportunity to apply to become a Mellon Research Fellow, where they will receive a stipend to support conducting a research project with a faculty member and presenting their work at a year-end gathering.
Being a part of the Mellon Pathways Program provides students with access to resources and a support system to enhance their academic success. It also gives them an opportunity to save money on tuition by taking classes at the community college that count: count towards their degree, count in their future, and count for transfer.
Program Benefits
Students will receive enhanced advising about course selection, transfer logistics, and financial aid, along with major and career exploration, and additional support through and after the transfer process. In addition, as part of the Pathways program, students will:
Participate in free activities, events, and workshops at VCU, at Brightpoint, and around Richmond.
Become acquainted with VCU before transfer and be part of a supportive community of students and faculty.
Have access to scholarships reserved specifically for students in the program.
Take classes at VCU while still at Brightpoint and receive guaranteed admission to VCU for those who successfully complete the Pathways program.
Have additional internship opportunities and preparation for career and graduate school goals.
Have the chance to become a Mellon Research Fellow and receive a $5000 stipend.
Eligibility Requirements
We encourage applications from students who plan to complete their associate degree at Brightpoint and then transfer to VCU for a bachelor's degree and:
are interested in one of the Pathways majors: African American Studies, Anthropology, Art History, English, Foreign Language, Gender, Sexuality & Women's Studies, History, Interdisciplinary Studies, International Studies, Mass Communication, Music, Philosophy, Religious Studies, or Theater, or who are undecided with interest in arts or humanities.
have completed 15 or fewer credits at time of declaration or with permission of the program director
are able to attend orientation
The program is also open to incoming students who plan to begin at Brightpoint in the next semester.
If a student has more than 15 academic credits, but has at least three semesters left at Brightpoint and would like to participate in the program, please contact your Brightpoint transfer coach, Briana Hernandez, or the Mellon Pathways program director, Janelle Marshall, to discuss and determine possible eligibility.
Participant Expectations
Each semester, each student will choose three Pathways program social gatherings, workshops, campus tours, cultural outings, online modules or other events and have two advising sessions with their transfer coach and/or transfer coordinator. Continuation in the program requires:
Maintaining a 2.50 GPA and completing at least 6 degree-applicable credits with a C or better each fall and spring semester.
Completing ENG 111 and the first college-level MTH course in the semester immediately following completion of any MTE or ENF courses (excluding summer), and completion of ENG 111 and ENG 112 and the first college-level MTH course with a C or better in the first 30 credits.
Apply Now
Log in to your VCCS/Brightpoint email account and fill in the online declaration form to be considered for Mellon Pathways. Declarations will be accepted year-round.
Mellon Research Fellows
Mellon Research Fellows is one element in the Mellon Pathways program; all students in the Pathways program can apply to be a Mellon Research Fellow.
Mellon Research Fellows are motivated Mellon Pathways program students who will:
work with a faculty member on a research project
present at end-of-year gathering
participate in at least one Mellon Pathways program cultural activity or workshop per semester
Mellon Research Fellows receive:
preparation for upper-level university work
enhanced mentorship and advising
a $5000 stipend for the school year for use towards tuition, books, school supplies and equipment, professional development and student activities
If you are interested in becoming a Mellon Research Fellow, please contact your transfer coach, Briana Hernandez. Selection of the Mellon Research Fellows will be based on application essay, GPA and other evidence of commitment to obtaining a bachelor's degree.
Questions?
Contact:
Briana Hernandez, Brightpoint Transfer Coach at 804-594-1564
Ian Coyle, VCU Transfer Coordinator at 804-827-8216
Janelle Marshall, Mellon Pathways Program Director at 804-819-4934