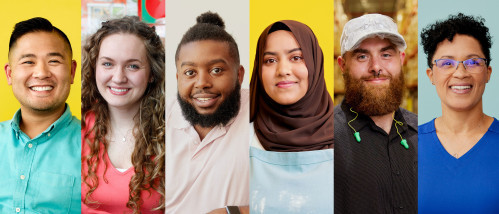 Rising 1st, 2nd and 3rd semester nursing students and precision machining students can apply until December 1, 2023 for scholarships that start in January. Apply Now.
The Brightpoint Community College Foundation offers scholarships exclusively for Brightpoint students like you! The Foundation typically awards more than $250,000 in scholarship funding each year with awards ranging from $500 to $4,000 for the academic year.
There are need- and achievement-based scholarships; scholarships for students in specific majors; and scholarships for students from certain counties or cities in our service region. With so many types of scholarships, there's sure to be one that you can be considered for.
Eligibility Requirements
Applicants must meet the following eligibility requirements:
Be a current or prospective student planning to attend Brightpoint during the upcoming academic year- current high school students planning to start at Brightpoint after graduation are encouraged to apply.
Earn a 2.5 minimum cumulative grade point average (GPA).
Enroll in a certificate and/or degree program at Brightpoint by the first day of the fall semester. If you selected a major on your application or by filling out our major declaration form, you're all set. If you're unsure if you've enrolled in a certificate or degree program, check with the Help Hub.
Have in-state tuition status.
You do not need to have a completed FAFSA form on file in order to apply for a Brightpoint scholarship.
If you change or complete your program before the end of the academic year, but will continue taking classes at Brightpoint, contact the Foundation to determine future scholarship eligibility.
Application Period
Scholarship applications are now being accepted for January. This application is open for rising 1st, 2nd, 3rd semester nursing students and precision machining students only. Application closes December 1, 2023. Apply now.
If you have questions, please contact Eddie Webster, Scholarship & Program Administrator, at wwebster@brightpoint.edu or 804-594-1477.
Application Support
You must submit an essay as part of your application package. Brightpoint's Academic Resource Center is available to review your essay prior to submission and offer feedback.

Each application package also must include an academic reference letter from a teacher or guidance counselor that is submitted electronically after your application is received; be sure to submit your application with enough time for your chosen reference to also write their letter.
"At the beginning of the semester, I could not afford to pay for my classes out of pocket. Without the scholarship, I would not have been able to continue my education."
Aimy Simbi
Scholarship Recipient