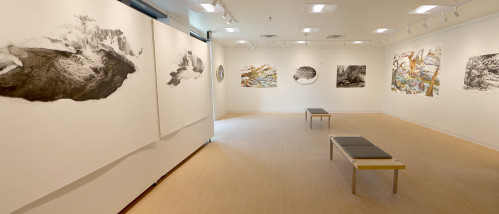 Art Gallery at Brightpoint
The Art Gallery at Brightpoint is located on the first floor, E107 of Eliades Hall on our Midlothian campus and hosts exhibitions from professional artists, as well as showcasing Brightpoint student work.
The gallery hours: Open Mondays – Fridays, 11:00 a.m. – 3:00 p.m., and by appointment
To schedule an appointment outside of regular operating hours, please contact Dr. Paula Winn at pwinn@brightpoint.edu.
Homogeneous Bodies
Stephen-Bernard Derek Callender
November 11 – December 10, 2022

Homogeneous Bodies: Nodes is a sculptural investigation of the transmitters and receivers that act as physical markers of the invisible network. Taking a closer look at the infrastructural totems that litter the sky, the work shows reverence to these towers that stand as the bridge to the omnipresent and omniscient, ever present cloud of human invention. With it we find ourselves Intrinsically connected to nearly all of humanity by only a matter of milliseconds. Intertwined, we find the very fabric of our evolutionary biology collapsing in upon itself, as our society continues to compress under a wave of our technological expansion.