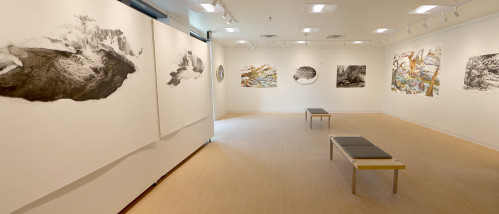 Art Gallery at Brightpoint
The Art Gallery at Brightpoint is located on the first floor, E107 of Eliades Hall on our Midlothian campus and hosts exhibitions from professional artists, as well as showcasing Brightpoint student work.
The gallery hours: Open Mondays – Thursdays, 11:00 a.m. – 3:00 p.m., and by appointment
To schedule an appointment outside of regular operating hours, please contact Dr. Paula Winn at pwinn@brightpoint.edu.
Chance / Intention
The Art Gallery at Brightpoint is pleased to present the first solo show from student artist, Josh Cloninger. Initially interested in photography, Cloninger's recent exploration of materials and process has led him to non-objectivism in watercolor. Each work documents the outcome of Cloninger's experimentation with media and reveals the choices that he made in the work's production. Cloninger lives in Powhatan, VA.
The exhibition dates are May 31–July 29, 2022.
Eqqumarka
Eqqumarka: New Artifacts from an Ancient City to the Upcoming Exhibition section. The exhibition dates are August 15–October 7, 2022 and the artist is Patricia Silva-Santisteban.
Ceramic work by Patricia Silva-Santisteban eqqumarka.com.