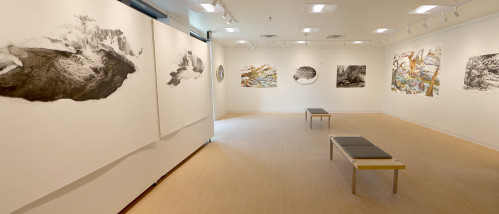 Art Gallery at Brightpoint
The Art Gallery at Brightpoint is located on the first floor, E107 of Eliades Hall on our Midlothian campus and hosts exhibitions from professional artists, as well as showcasing Brightpoint student work.
The gallery hours: Open Mondays – Fridays, 11:00 a.m. – 3:00 p.m., and by appointment
To schedule an appointment outside of regular operating hours, please contact Dr. Paula Winn at pwinn@brightpoint.edu.
"Land, Sea, and Sky" by Whitney Knapp Bowditch
Land, Sea, and Sky features atmospheric landscapes executed in oil paint and drawing media. The works are an exploration of surface texture, color relationships, and value contrast. The pieces vary considerably in scale and are completed on a variety of substrates. August 28 – October 6
"Mining the Present" by Cynthia Myron
Mining the Present represents Cynthia Myron's most recent body of work which presents a dialogue to consider; one that exists between individuals, intimate spaces, and the fleeting moments within nature. The culmination of these works explore the human impact on our natural landscape while simultaneously asking the viewer to examine their own place in the conversation as they consider the idea of home and place; how they serve as a symbol of safety and shelter.
Works provide a moment for contemplation, particularly those which are viewable by only one individual at a time. Isolated moments of voyeurism provide an opportunity to reconsider and deconstruct the notions of labor, industry, and commodity and present the opportunity to consider what is constant and reliable compared to what is mutable, shifting, and curiously inconsistent.
October 23 – December 8
"we'll always have rabbits" by Michael A. Pierce
The exhibition will consist mainly of the drawings that I did in March / April 2023 while in residence at la Cité Internationales des Arts in Paris.
"Who doesn't like a rabbit?" I have asked, knowing full well that there are those who find these images too safe and sweet. Obviously, the image of a rabbit is a loaded image. Rabbits carry symbolic meaning that varies widely and is often contradictory. They are safe, soft, and cuddly and therefore an appropriate symbol for the child in each of us. But they are also fearful, shy, and vulnerable, and sometimes prey for the hunter. At the same time, they remind us of our own sexuality, desire, and abundance speaking to the adult in us. Ultimately, rabbits may symbolically assure us of hope and happiness for the future with new life and new beginnings. The rabbit as trickster and the artist as trickster also play an important part in my work.
In March 2023, I returned to le Cité Nationales des Arts in Paris, for a residency that had been aborted by the pandemic in March 2020. I focused on two bodies of work using rabbit imagery – natural rabbits using source images from an October 2022 Virginia Rabbit Breeder's Association Fair and white chocolate rabbits, because it was Easter-time in Paris and there were chocolate rabbits everywhere. January 16 - February 23, 2024 (courtesy Quirk gallery)